LeBron James used to be the superstar doing his best with a marginal supporting cast -- now that man is Dwyane Wade. Meanwhile, the Thunder's supporting cast came up big in Dallas -- but the Lakers' laid an egg in Phoenix. The TrueHoop Network casts a wide net over the NBA: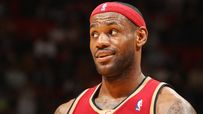 John Krolik of Cavs the Blog: "This might have been my favorite LeBron game of the year. With real stakes on the line playing a real team, LeBron scored a pretty 42 with a True Shooting of 80%. And the perimeter game! Absolutely thrilling. I'd much rather see that than what he showed against Milwaukee. There was absolutely zero heat-checking involved in the making of those threes. The breakdown:
2 in the open court on broken plays in the up-and-down playground basketball stretch of the first quarter.
2 on a move where he got space on the perimeter, took one hard dribble forward and went straight up into a shot with his momentum taking him towards the basket.
1 on a pick-and-pop with Mo Williams during crunch-time
1 on a back-tap that came right to him after he ran the same play with Williams, but Williams elected to shoot. Also during crunch-time.
The new stroke he's been trying to get himself into seemed in full effect tonight -- he didn't fade, he kept the elbow in and the wrist extended, and he kept his lower body quiet. The ultimate goal is to have perimeter moves from 15-18 or behind a pick-and-roll that can get clean, repeatable looks from high-efficiency spots on the perimeter. If that isn't there, working off the ball and being patient for perimeter looks like LeBron was tonight is infinitely preferable to indiscriminately jacking up bombs off the bounce to show everyone you can."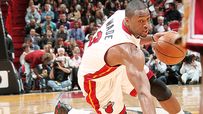 Matt Moore of Hardwood Paroxysm: "Wade has taken this ragtag team, filled with rookies (Beasley and Chalmers), fringe players (Joel Anthony, Daequan Cook), and veterans considered past their prime (Jermaine O'Neal, Udonis Haslem) and have turned them into a cohesive unit. That they were overwhelmed tonight was not about a fundamental flaw, a lack of resolve, or a weakness borne from their chemistry. They were simply overrun by numbers...
Wade...was a leader of men, and a force of nature all at once. No one goes from 0 to 100 on the steal as fast as Wade. Not Ellis, not Barbosa, no one...
He won't clear 50 wins. But he's brought this team from the ashes, answered his critics, has them in line for the playoffs, some quality wins, and his numbers are off the charts. Points, rebounds, assists, steals, and even blocks. He's done more with less, and he's doing it by setting crowds on fire and leading a young team.
I'm starting to believe Dwyane Wade may really be the 2008-2009 MVP."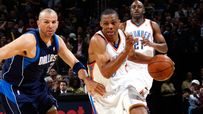 Royce Young of Daily Thunder: "Before the game, I worried that this might be a borefest seeing as OKC only had one part of its three-part fun team. Russell is a joy to watch, but without KD and Uncle Jeff, I wondered if it would be any fun watching Nick Collison and Kyle Weaver grind out possessions. And the funny thing about it is, this was probably the most enjoyable game of the entire year from a pure basketball standpoint. For four quarters there was awesome ball movement. For four quarters there was tight, no-room, suffocating defense. For four quarters, five guys (on one team) worked together as one. It was beautiful. Not to take anything away from Jeff Green and KD, because give me them back tomorrow please, but what an effort by the Thunder scraps -- and I mean that in the nicest way possible."
THE FINAL WORD
Queen City Hoops: More Brett Hainline wizardry -- a study of Emeka Okafor's defensive efficiency, broken down by the height of his opponent.
Roundball Mining Company: A close look at the events surrounding 'Melo's suspension.
Forum Blue & Gold: Is the Lakers' bench a cause for concern?
(Photos by Victor Baldizon, Victor Baldizon, Layne Murdoch/NBAE via Getty Images)