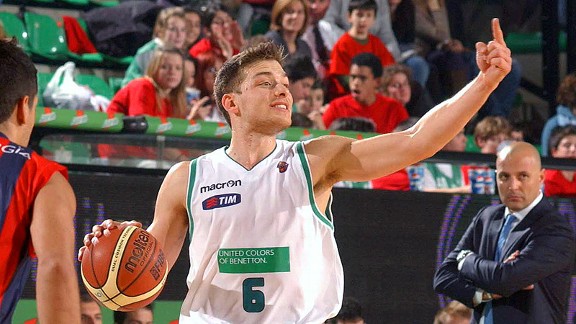 Arturo Presotto/Iguana Press/Getty Images
You've probably never heard of Gal Mekel, but your NBA team probably has.
The Jazz were the first team to notice. Then the Timberwolves, Bucks, Pacers, Hawks, Grizzlies, Mavericks and others. Now many teams are interested in reigning MVP and champion of the Israeli league Gal Mekel. Because Mekel is 25, by NBA rule he is an unrestricted free agent, even though he has never been through the draft process.
Marc Stein reported the other day on the man with the plan to become the NBA's second Israeli player, after Omri Casspi:
Mekel had an eye-opening workout last week with the Milwaukee Bucks, according to sources close to the situation, and will audition Monday for the Dallas Mavericks. Sources told ESPN.com that the Toronto Raptors, meanwhile, are the latest team to express interest in Mekel, who has made major progress since his days at Wichita State from 2006-2008 and increasingly appeals to NBA teams thanks to his size, ability to read the game and, most of all, his pick-and-roll proficiency.

Other teams to register a level of interest in Mekel, sources say, include Atlanta, Indiana and Memphis. Utah also continues to track Mekel after giving him his first NBA audition last fall and inviting him to training camp, only for visa issues to prevent his participation.

The success of Pablo Prigioni's jump directly from Europe to the NBA with New York at age 35 has spawned the belief that Mekel, just 25, can do the same. Coached by former Philadelphia 76ers general manager Brad Greenberg with Haifa this past season, Mekel has likewise begun to convince to NBA talent evaluators that he can immediately become a rotation player in the NBA, someone who, at 6-foot-4 and 190 pounds might actually be more effective in the NBA game than he is internationally -- particularly in pick-and-roll situations -- because the lane tends to be so much more clogged overseas.
Mekel describes how, at age 25, things have lined up such that he and his agent are discussing real NBA offers.
It began with a near-perfect season in Israel, winning a championship and an MVP. "It was a dream come true," he explains. "To win the championship. For me individually, I felt that I got better. I couldn't ask more from this year."
Then there was a matter of seeing the NBA in a new way. "It's a dream that every basketball player that's starting to play is dreaming of. I wasn't really focused on that. My goal was to get better and play on a high level in Europe. But last year you know I started to work with Coach [David] Thorpe and I hear it from him that he thinks that it's possible. I had a very good workout last year with Utah, and I saw that there is a possibility. When this kind of door opens, you want to get in. ... They invited me to vet camp. I just couldn't go because of visa issues. ... That's it. I came, worked hard all season, and I knew that I'm going to have some chances this summer. Here I am."
The next step is to wow people in workouts. Mekel says he has no special approach: "Just run the team. Try to be a point guard on the floor I did all my life. Scoring if needed. Play D."
Then there's the reality that Mekel is in some ways better-suited to the NBA game than the European one: "With the spacing and the court over here, and for me a guy who loves to play the pick and roll, and read situations, it makes it easier to read and play with the spacing and opportunities in the NBA," says Mekel. "It feels better than the European game."
As a free agent, Mekel can begin negotiating with teams July 1, and can sign a deal a week later. Whereas he once would have been happy with an invite to summer league or training camp, interest has been heavy enough that Mekel says he's hoping the next step will be to earn a regular-season roster spot, as opposed to an invite to prove himself.
Mekel has no illusions he'll walk into a starting job. "The players I really like to watch are Chris Paul and Steve Nash," he says. "All the points guards that make their teammates better. Those are my role models. ... I just want to put my foot in this league, and then see how it goes. I don't know what to expect. Every place that I went my family taught me to come and improve myself and work hard and all the rest will come. I'm sure I'm not going to be the key player like I am in Israel or in Europe. But it's also a new experience, and I want to climb and find my way."