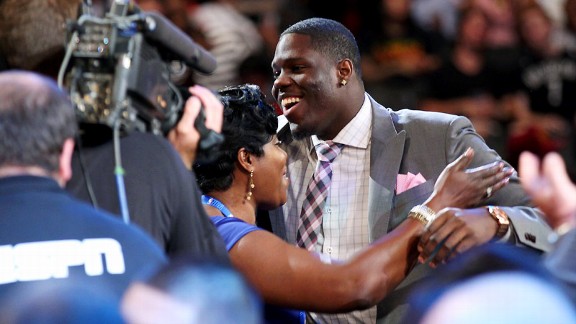 Mike Stobe/Getty Images
Basketball has clear winners every night -- except at the draft, which is all homework, politics and chance.
The Cavaliers kick off the night by ignoring consensus pick Nerlens Noel and media darling Victor Oladipo to choose Anthony Bennett.

Mikhail Prokhorov's Nets trade for a big swath of highly paid older Celtics.

The Bobcats could have had Noel fourth, but blew minds by taking Cody Zeller instead, prompting some to wonder if Michael Jordan's poor performance as an executive may one day overshadow his brilliance on the court.
"There should be a trade committee that can scratch all trades that make no sense," Gregg Popovich once said. Who knows if he was kidding or not -- his brand of deadpan can be tough to decipher. But if there were such a panel like that, the 2013 draft provided the "everyone knows that's dumb" moves that would keep it busy.
Only, here's the problem: Popovich said that talking about the Grizzlies' trade of Pau Gasol, which he called "incomprehensible" and lop-sided in favor of the Lakers in 2008. But by 2010, Popovich was already eating his words. By 2011, players Memphis got that day -- namely Marc Gasol -- had helped the Grizzlies eliminate Popovich's Spurs in the first round. By 2013, sane people can argue the Grizzlies won that deal.
It's funny how things work out, and harsh hasty judgments of NBA moves are a dangerous business, even for one of the NBA's few certified geniuses. What hope do the rest of us have? If not Pop, who knows what's really insane?
---
We like to know who's winning and who's losing. We like it so much that Hollywood routinely shoehorns wins and losses into daily work life. Jerry Maguire has an epiphany and quits to start his own sports agency. The dude from "Office Space" loses all self control, starts mouthing off, and the bigwigs love him for it. Denzel Washington lands the plane upside down, saving hundreds of lives. Erin Brockovich makes her case; the bad guys write checks for hundreds of millions.
The sound track swells. Fists are pumped. Champagne is popped. Victory.
But who has jobs like that in real life? When do you drive home through rush hour traffic to a Gary Glitter soundtrack? Most of us drive home knowing we tried, hoping it was good enough.
I guess that's why it's so fun, once home, to have basketball. Tune into a game and yes you'll enjoy Kyrie Irving hypnotizing some dude with a crossover, or Tony Parker sneaking to the rim again. But it's also precious relief from life's muddled chords of qualified good and potential bad. Between the lines life is nice and clean. You win, I lose. Or better yet, I win and you lose. The referee is right there to keep it honest, and the winner's the guy talking to Doris Burke at the end. The one thing we're sure of is that we won't have a split decision.
Sports do this for us and we love them for it. Basketball is among the most frenetic and improvisational of human activities, more than a thousand players, coaches, owners and front office people do what they can to win a title every year -- who does it best is almost impossible to say. And yet as if by magic, it took just two quick months of playoffs to tidily reduce half the league -- more than 200 players eager to define their careers, 16 coaches haggard with lack of sleep -- to ... the Miami Heat. If you look, I bet you could still find litter on the street in Miami from the victory parade of a few days ago.
And here we are in Brooklyn, welcoming a new generation of winners, or losers. That's the business of playing basketball, and that's the mode we're still in. Identifying winners.
But this isn't the NBA Finals. You're not Erin Brockovich. Anyone who thinks they really know, in real time, who won and lost the draft is due for a rude awakening.
---
Draft night is fun, but it's not the night for tidiness. On game night you can live vicariously as a player. On draft night you get to live vicariously as a GM, but unlike players, GMs have messy "we'll see how this works out" jobs just like the rest of us.
There might be a hundred key decisions for a front office to make a year. The job is to get such a high percentage of those draft picks, coaching hires, trades, nutrition plans and like correct that the team has a chance, at the end of the year, to be the very best of thirty.
Some braintrusts are so bad the players never have a chance. Other teams, like Pop's Spurs, have such strong management that any number of cheap players can be plugged in and succeed.
It's not that the best teams don't miss -- we'll see how the the Spurs' pick Livio Jean-Charles works out -- nor that the worst teams miss every time. It's that over years, and hundreds of decisions, the good ones eke out a small, but meaningful edge. Their miss rates are a little lower -- which is not something you can divine from any one night of transactions.
Ray Allen hit the shot of the season in Game 6 of the Finals, and for that has been crowned a heroic shooter for the ages. Hanging it all on that moment is great, as a way to make life more fun. And it's what we do. But it's horrible as a way to really determine who's good at shooting. Had he missed, he'd have been precisely the same quality shooter, in the big picture.
What Allen did that was undeniably perfect was his homework. For years. The extra time in the gym, the perfect form, the unwavering focus of every cell. He didn't hope that thing in.
And in this way, the players and the GMs are like each other, and us. The real shame isn't in one shot, one pick, or one trade. It's in not doing your homework, or making the same mistakes again and again.
But a high risk gamble here or there, those are constants, if maddeningly tough to call in real time. Kill the Cavaliers, Bobcats or Nets today if you like. Me? I prefer to see it play out.