Dwyane Wade broke the Bulls' hearts. Trevor Ariza almost broke Rudy Fernandez's frame. And the NBA isn't nearly as broken as the Wall Street Journal believes. Break the seal on the TrueHoop Network.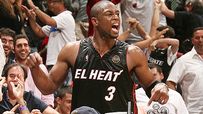 Matt McHale of By the Horns: "Remember, it was only a few weeks ago that [Dwyane Wade] scored a career-high 50 points in a 23-point loss to the Orlando Magic. Against the Bulls, he did more than score and dish and steal and block. He nailed an ultra-clutch three to tie the game with 11.5 seconds in regulation, thus forcing the first overtime session. Then, at the end of the second overtime, with the game tied at 127, the Bulls had possession of the ball with an opportunity to run down the clock and take the final shot. Only Wade stole the ball and drilled a running lightning bolt from beyond the arc as the buzzer sounded...
Amazing, huh? I can think of only a handful of ways Wade's game could have been more epic: If it had come against the Cavaliers, Celtics or Lakers; if it had happened in the playoffs (preferably a seventh game); if he had simultaneously saved all the children and a puppy from a burning orphanage; or if it had caused the fall of the Dark Lord Sauron's tower of Barad-dûr. Sadly -- for Chicago fans, anyway -- Wade's heroic, virtuoso performance ruined what would have been an incredible and hope-lifting victory...
It was a brave and gutsy effort, but Chicago simply couldn't trump the superstar factor. I suppose you could call this a feel-good loss. The Bulls can take comfort in that fact that not many living men could have done what Wade did last night. LeBron, probably. Kobe, maybe (although I can't remember many occasions in which he scored 40+ and dished 10+ assists…if any). But that's about it. Honestly, I'm not sure what else the Bulls could have done."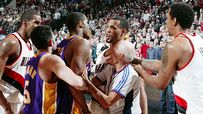 Matt Moore of Hardwood Paroxysm: "I'd noticed Ariza before. Ariza is a true Hustle Junkie. Nothing but foot on the pedal. The kind of guy you love if he's on your side. Heck, with all the dunks and breakaway steals, most people in the general NBA loved his resurgence too. But I kept noticing that he'd dive for balls through players. He'd go for fouls with arms fully extended, often making a lot of contact. I mean, it was fun to watch. Seriously. But I kept thinking, 'wow, that's dangerous.' Again. And again.
... Maybe it was just an isolated incident. A freak play. By no means was it dirty. Ariza wasn't trying to club him in the head. The problem is not that Ariza meant to hurt him. It's that he didn't care if he did. It wasn't dirty. It was reckless.
I'm not saying that players need to not touch each other on defense. I'm not saying there's no place for hard fouls. I'm not saying that if a guy puts an elbow in your back, you don't remind him next time he goes up. But there's got to be some semblance of respect for the guys that share the floor with you. They're trying to make a living, just the same as you. I'm in competition with another company, I don't want to do something that results in their house getting torn down. You can want to win without abandoning regard for the safety of the other 6-foot to 7-foot full speed players you're battling against."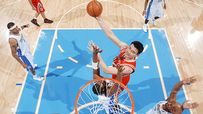 Brody Rollins of Rockets Buzz: "I'm still not comfortable with Lowry running the point. Brooks got into foul trouble tonight and played just 25 minutes. With Lowry in the game Artest was left with the offense in his hands, which all too often led to one-on-one situations against Melo and a total of 20 shots. The Rockets play better when the ball is distributed first to Yao, then around the perimeter, and definitely doesn't work when it stays in the hands of one player. What does Lowry do differently to improve those around him? I'd start with trying to post him up against other guards. Gary Payton was the best at this and both players have the same type of build, tenacity, and feel for creating shots on the inside."
THE FINAL WORD
The Painted Area: Haubs delivers a tremendous rebuttal to the WSJ ... and a nice round-up of great buzzer-beaters, to boot.
Queen City Hoops: Posing the age-old question -- would you rather have the #8 seed, or a lottery pick?
Valley of the Suns: Speaking of the lottery, the Suns have left a lot of money on the table in recent years.
(Photos by Victor Baldizon, Sam Forencich, Garrett Ellwood/NBAE via Getty Images)