The Hornets' sharpshooter might be better off in the second unit. The Cavs' sharpshooter couldn't connect all night...until it mattered. Ron Artest thinks he's a sharpshooter. The TrueHoop Network shoots from the hip.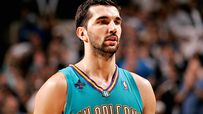 Ryan Schwan of Hornets247: "Other than Dallas, the Hornets have the worst bench among the current 8 seeds in the West...That means that when the Hornets hit the playoffs, we can expect the second-quarter meltdowns to become even more pronounced. It's pathetic, because the Hornets' starting five is the seventh best in the league, despite all the nagging injury issues they've had. If the Hornets' bench could provide even a little boost, or just play the other team more evenly, it would make the team infinitely stronger and get the starters more rest.
So is there a way to fix the bench? I'm a bit of a pessimist, but here is an idea that several people have already proposed in our comments, and that I agree with: Turning Stojakovic into a sixth man.
During the series of games where Paul, Chandler, and West were all out of commission, the Hornets turned to Peja to be their primary offensive option, and he did a pretty solid job in that role. The past three games with Julian in the starting lineup, the Hornets' starters have produced a slightly worse offensive efficiency of 108.0 and a much nastier defensive efficiency of 84.0 ... The Hornets could start Julian, sub him out for Peja around the 6:00 minute mark of the first quarter and let Peja warm up. At the start of the second quarter, they can start running the offense through him.
Making this change will entail curtailing Posey's minutes some -- but I really think he'd be better served as a 20-22 minute man anyways, not the 29 minute man he's been all season."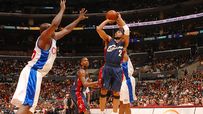 John Krolik of Cavs the Blog: "Mo Williams. What do I say? For 47:54, he had absolutely as bad a game as you can have. He's kind of an Anti-LeBron in that he's a guy who's primarily a straight-up scorer whose offense comes from the perimeter, so when he's not in a flow things can get very bad very fast. (Fortunately, he's ridiculously consistent.)
Tonight, he wasn't hitting his shots off the dribble. He wasn't hitting open threes. He wasn't doing well defensively. He had one assist against four turnovers.
And yet, for the third game in a row, Mo Williams was the difference between victory and defeat. And if I had to pick one game to show how valuable Mo is to this team, it might be this one. No matter what he's done before in the game, he's the guy who's there when we need him. Tonight, he was the difference between a great win and the worst loss of the year.
Delonte got off the hook, too-he was an absolute non-factor all game long, which is the one thing he generally never is.
Again, I'm going to point out just how good Joe Smith and Andy were at rolling to the basket all game long and getting layups, and how unbelievable LeBron was at finding them with amazing passes. I do not think it is a coincidence that this came against Zach Randolph."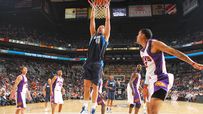 Michael Schwartz of Valley of the Suns: "We'll never know if things would be different with Amare (I think they would be), but as J-Rich said, the Suns just can't think that way.
As it is, Phoenix struggles to match up defensively against most teams with their small ball lineup, and it makes me a bit queasy that Dirk has said the toughest defender he faces in the NBA is Shawn Marion.
Yeah, he might be a little helpful right about now.
To add insult to injury, the Mavs won this game without Josh Howard to snap a nine-game road losing streak to Western Conference foes, winning their first West game away from Dallas this calendar year. And yes, it is March 10.
For the Suns, it feels like that 'season-changing' win over the Lakers on March 1 was in a whole different calendar year."
THE FINAL WORD
Celtics Hub: How clutch are the C's in close games?
Rockets Buzz: The eternal Ron Artest question.
Daily Thunder: Who needs Tyson Chandler when you have Nenad Krstic?
(Photos by Glenn James, Noah Graham, Barry Gossage/NBAE via Getty Images)