What's it called again? The TD Banknorth Garden? That thing, whatever it is, where the Celtics play. I sat there on Sunday afternoon, watching the injured home team lose to the Orlando Magic.
There was quite a lot of media there. Enough that ESPN.com's armada of journalists couldn't all be in the primo media seats. So Kevin Arnovitz, David Thorpe and I sat in the sky.
You know how some arenas do a parachute drop, where they drop little treats, attached to parachutes, onto the crowd below?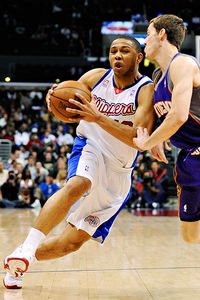 They drop the parachutes from where we were sitting. Literally. The only way you could be further from the action would be to be outside the building.
It's actually not bad, though. You can see plays develop nicely, there is plenty of room to stretch your legs, and no lines for the bathrooms!
Anyway, we sat up there, chatting away, and after a while the topic became: Why isn't Eric Gordon higher in Thorpe's rookie rankings?
The conversation didn't randomly drift there, either. Arnovitz watches every second Gordon plays, and raves about the guy, at both ends of the floor.
Kevin made a convincing case, talking about scoring efficiency, defensive assignments, and shooting stroke.
Thorpe, who takes the rankings very seriously, swore to dig in to the statistics and video.
He also said something to the effect of: Could he really be in the top four? Up there with Russell Westbrook, Derrick Rose, Brook Lopez and O.J. Mayo?
I smiled a little today, when I saw that Gordon has, indeed, passed Mayo to claim the fourth overall spot.
I don't know if Kevin affected Thorpe's thinking or not. But it couldn't have hurt.
(Photo: Kevork Djansezian/Getty Images)