Watching the Thunder without Durant has been a revelation. Watching Paul Pierce is crunch time something to behold. Just don't try watching a Celtics game in a Philly sports bar. Watch and learn at the TrueHoop Network.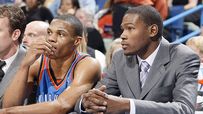 Royce Young of Daily Thunder: "I don't deny that something's changed without Durant in the lineup. Some very, very good things have happened. The team has worked together and focused on all the details and little things. They knew in order to win, there couldn't be any room for error. There would be no 'Pass it to Durant, stand back and watch.' It was five working as one on both ends of the floor. Guys like Kyle Weaver and Nenad Krstic picked up their offensive games. Russell Westbrook was making everybody better around him. Thabo Sefolosha was a bear defensively and a smooth operator offensively. And when Durant steps back on the floor ... things should be better for him because he'll have a group of guys playing with more confidence and a better understand of their role...
One thing to remember is that Durant hasn't really has the chance to play with Thabo yet. KD hasn't been able to reap the benefits of a teammate that can wreak havoc and entirely change a game by himself on the defensive end. Thabo can pull off and help with the best of them. And he's also a better offensive player than people give him credit for. He plays smart, takes good shots, makes solid cuts, moves well without the ball and is a solid passer ... So Durant and Thabo really haven't had a ton of burn together. And Thabo is clearly a very important key to winning some of these games...
Playing without Durant has been a great thing for the team. Everybody has had to elevate themselves and play better ... Hopefully with this solid stretch without him, the team has realized that they are a major part of this success. It's not Kevin Durant and four other guys. It's five guys and one of them happens to be Kevin Durant."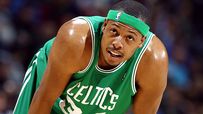 Zach Lowe of Celtics Hub: "Paul Pierce has taken ONE HUNDRED freaking free throws in crunch time. 100!
... That is a remarkable number. Pierce has shot 445 free throws this year, meaning a full 22 percent of his free throw attempts have come in 30 fourth quarters and three overtimes–a span that makes up just 12 percent of the season so far. Read another way, Pierce has gotten to the line twice as often in 'clutch' fourth quarters as his normal FTA rate suggests he should have. Pierce has taken 26.7 percent of the Celtics 1,666 free throws overall this season; he's taken 37.5 percent of the free throws in my 'clutch' sample.
There's one obvious caveat here: About one-quarter (maybe a little bit less) of these 'clutch' foul shots came in end-of-game scenarios where the other team fouled Pierce to stop the clock. Even with this in mind, the number of FTAs is still enormous. And it's a hugely important skill. Jump shots go hot and cold, ingenious plays break down, but Pierce's will to attack the rim never wavers. Pierce at the foul line is probably the C's best late-game weapon -- even better than a Pierce jumper.
The Celtics also rely heavily on that. Pierce's 97 total two-point 'clutch' FGAs make up 22.5 percent of the Celtics 'clutch' total. Overall this season, Pierce has taken 17.7 percent of the team's two-point field-goal attempts. Clearly, the team leans on the Truth when games get close."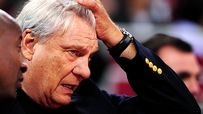 Rob Mahoney of Hardwood Paroxysm: "[Don Nelson] is the 'mad scientist.' the offensive wizard, and the cooky, unconventional coach who escapes to Maui in the offseason. His coaching style appears whimsical, and so he appears whimsical. But now, more than ever, we need to realize that he, as a person, is not. His basketball mind is a unique one, and he's done plenty of things that make me smile and think about the game in new ways. But time and time again, he has angered everyone around him, and split town with more enemies than friends. Mullin had a good gig going before The Whimsical One waltzed into town, and though his performance was poor, his job never seemed to be in jeopardy. One Don Nelson later, Mullin seems to be the one packing his bags while Nellie coasts through the end of the season, laughing maniacally on that extended flight to the islands. Nellie might be doing us all a favor by getting rid of Mullin, but is a good move for all the wrong reasons still a good move?"
THE FINAL WORD
The Painted Area: A smart assortment of basketball book notes.
Hornets247: Tyson Chandler is coming along.
Celtics Hub: "This is Philly. You're not getting the [flippin'] Celtics game on in here."
(Photos by Layne Murdoch, Garrett Ellwood, Frederic J. Brown/NBAE via Getty Images)