Was the Celtics' loss in Chicago meaningless? Was the Cavs' win over Orlando at the Q a pyrrhic victory? Sort out the mixed signals atop the Eastern Conference standings at the TrueHoop Network: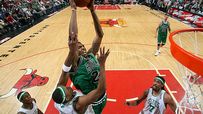 Zach Lowe of Celtics Hub: "Here's something that tells you all you need to know about this game, a loss ... in which the C's gave up a season-high 127 points to a mediocre team: When the Celtics absolutely had to get one rebound–when they were down 122-119 with 33 seconds left and Derrick Rose missed a jumper–Eddie House was left to box out Brad Miller.
... It is here that I could ask why Doc Rivers had taken Kendrick Perkins out of the game for this possession, leaving a super-small line-up of House-Pierce-Allen-Marbury-Rondo to get the essential stop. I could lament that the C's missed an opportunity to move a game ahead Orlando for the 'all-important' second seed. And I could criticize a truly bad defensive performance, full of slow rotations, missed assignments and poor decisions (hi, Mikki).
But, really, the line-up that was on the court at the end of the game (and for most of the fourth quarter) shows how meaningless this game is in the long run. It was fun to watch precisely because it was so gimmicky. If the Celtics go on to win the title this year, this game will merit one paragraph in the Globe and/or Herald quickie book chronicling the season–and only then to note Leon Powe's knee injury (update forthcoming). It is a game we will have long forgotten come the playoffs."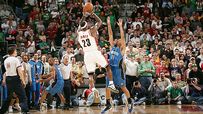 John Krolik of Cavs the Blog:"LeBron James is more messianic than you are. Not only did he completely dominate this game, but he did it against a defense that was well set up and ready to take away his bread and butter from him. The jumper was absolutely in full effect, and this is as good as you're going to see the inside/out game working from LeBron James ...
[I]n the final moments, he was more than a little clutch. That three in front of the Magic bench? I mean, what can I say? He was absolutely feeling it, if he misses we likely as not lose, and the degree of difficulty was through the roof. Absolutely amazing. And sealing it with a savvy pump-fake and foul draw and two clutch free throws instead of getting caught up in the moment and trying a fadeaway dagger? Fantastic ... This is maybe the most talented player ever to pick up a basketball on an absolute mission. Enjoy every game...
This is pretty much the game to show why Howard isn't quite on that MVP level yet (as I see it, tier one is LeBron, Kobe, CP3, and Wade) -- he was dominant defensively and pulling in rebounds, but after looking like a bona fide offensive force the last time we saw him and the last game he played, he was almost invisible on that end tonight, showing some nice hooks and even passes out of double-teams but ultimately only getting 13 points on 8 shots.
A lot of that isn't his fault -- this team loves the three-ball, and doesn't play as disciplined as it should. This is where going from a Jameer to a Skip really hurts you, even if Skip's drilling his shots."
THE FINAL WORD
Roundball Mining Company: Are the Nuggets officially out of their funk?
Hoopinion: Sympathy to Kevin Martin.
By the Horns: A win is a win is a win.
(Photos by Gary Dineen, David Liam Kyle/NBAE via Getty Images)