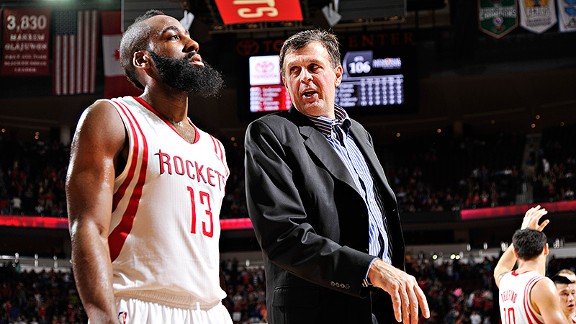 Bill Baptist/NBAE/Getty Images
Title contention and massive disappointment are both possibilities for the 2013-2014 Rockets.
Almost five years ago, Houston GM Daryl Morey explained his long-term team-building strategy on a stage at a conference in Boston.
Basketball, he said, is "not like many professions." In most lines of work it is enough to be really good. But in basketball, you have to be the absolute best, No. 1 out of 30, or else you have failed. Twenty-nine teams go home unhappy. Run your team making only conservative decisions and end up, almost certainly, as one of the 29 losers -- so that's not what Morey intended to do.
And Morey has been a man of his word, rolling the dice every which way in attempts to get top-shelf players. He went all-in trying to woo Chris Bosh in the summer of 2010. He traded for Pau Gasol in the Chris Paul deal that fell apart at the direction of David Stern.
Most teams shy away from tough-to-value players, but Morey has signed a ton of them. Ron Artest (as Metta World Peace was known then) was on Rockets' roster when Morey spoke at the MIT Sloan Sports Analytics conference. Since then, effective-in-short-minutes backups like James Harden, Jeremy Lin and Omer Asik have beguiled executives.
Morey signed them all to big deals. He also drafted Royce White, a tantalizing talent with a well-documented history of mental illness that has kept him from the NBA court.
Take the right big risks, and you'll still probably end up as one of the 29 losers -- that's the math -- but at least you have a chance.
Which is precisely where Morey has steered the Rockets now, after trading for James Harden a year ago, and then luring Dwight Howard to Houston in free agency.
Everyone knows Howard was the best player on the free-agent market; the contest to sign him has been called a "sweepstakes."
But he's also an enigmatic player with a history of back trouble, coming off the two worst seasons of his career at an age when most players at his position would be peaking. They're not ready to start ordering championship rings in Houston, but now rings are among the things that really could happen. Among the other possibilities is what happened to the last team that signed Howard: The Lakers are in total disarray.
It's not about knowing the future. It's about maximizing the likelihood of being the last team standing.
Vegas says that adding Dwight Howard to a roster of Harden, Omer Asik, Jeremy Lin, Chandler Parsons, Patrick Beverley, Donatas Motiejunas, Terrence Jones, Greg Smith & Co. gives Houston about a 10-to-1 chance of winning the title this season. Before the Howard signing that was 20-to-1, according to Bovada. And bad as 10-to-1 sounds, only the Heat and Thunder have better chances. The Rockets are in the hunt with teams like the Bulls and Clippers.
But like the Bulls and Clippers, the Rockets are wrestling with profound risk. The teams' key unanswered questions:
Is Dwight Howard healthy?
The Rockets have yet to complete their physical of Howard. It's hard to believe anything they'd find would have the potential to make them walk away from free agency's greatest coup.
But what they find will have to matter for a franchise that is only a few years removed from envisioning Yao Ming as the cornerstone of a title team. Yao's premature retirement due to foot problems still hangs over the Rockets -- Yao's only five years older than Howard, but last played meaningful minutes when he was about the same age Howard is now.
The good news is that Howard has not had a career like Yao, Greg Oden or other famously injury-prone players. He has been a durable performer over the past nine years, having missed just 25 games over the first nine years of his career. He was even, compared to most other NBA players, pretty good last season while playing injured. The Lakers were better with him on the floor, even if his PER was right there with Robin Lopez's, and well behind, say, J.J. Hickson's.
It's no lock Howard will ever return to his wicked-high, contender-anchoring production of three years ago. Back then his seemingly invincible body was his greatest advantage. Now, like all aging players, he's trying to learn how to help a team as much without deploying so much body-taxing explosiveness.
Can the Rockets still play fast?
The Rockets used a clever style to turn a mediocre roster into the NBA's sixth-best offense: They played at the NBA's fastest pace. As they flew down the court, they looked for two kinds of shots: those behind the 3-point line and those at the rim. Those shots aren't easy to get against set defenses, but early in the clock, with creative ball handlers like Harden and Lin doing their thing, there are buckets to be had without having to sweat matchups and all that.
In other words: These players can score, if they play fast.
If they can play fast with post-back injury Howard, however, they will have figured out a trick that befuddled the Lakers' coaching staff.
It's not how most fans see the game, but there are great post-up opportunities very early in the clock; the best time to score from the post is before there's help. Howard could, in theory, be part of this attack. But it would mean doing the hard work of defending the rim, warring for the rebound and then racing the floor. It's a tall order, and not something any player can do for 40 minutes a night.
Which brings up ...
The Omer Asik issue
Asik is not a superstar, by name. But he's a very fine defender. He was on the floor for 62 percent of the Rockets' minutes last season, during which time the team was very good, outscoring opponents by six points per 100 possessions. During the other 38 percent of the season the team was so bad that all the other big-minute Rockets -- Harden, Chandler Parsons, Lin -- finished the season with negative plus/minus ratings.
In other words, we think of Howard joining a pretty good team, and making it better. But in fact, by sending Asik to the bench, Howard is taking the floor with four guys who needed heroic defensive help just to win 45 games. The great news for the Rockets is that they'll have finally solved last season's crisis -- no good backup for Asik -- but there's still no getting around the reality that Howard is benching one of the very best Rockets, and it's no surprise Asik's not happy about it and has asked for a trade.
The Rockets believe they need Asik and won't trade him, however. Not to mention: It might make sense some nights to close games with Asik on the floor instead of Howard.
Keeping everybody focused on the bigger picture will be a massive challenge for coach Kevin McHale.
Coaching
McHale is a legend as a player. But we still don't know much about him as a coach. He has won a little less than half of the 242 regular-season games he has coached, with last season's 45-win Rockets team his best full season. This past spring he won the first two playoff wins of his coaching life.
And without a good post player, the man who was once lauded for his top-shelf post moves has scarcely been able to play his best coaching cards. Perhaps he will coach Howard better than he can coach anybody.
But as far as devising the best team scheme, or massaging all the egos enough to keep everyone focused on the bigger goal, we don't yet know how he ranks.
Will there be enough basketballs?
Superstars drive the championships in the NBA, it's generally bad strategy to leave them. But did you notice that both Rockets stars, Howard and Harden, are on the short list of players who could still be teamed with superstars but chose otherwise? It's not a stretch to say that Howard wanted the ball bad enough to flee Kobe Bryant. Harden played in the shadow of Kevin Durant and Russell Westbrook in Oklahoma City. The Thunder reportedly offered Harden $55 million over four years to stick with a team that had just made the Finals. Harden rejected the deal, convinced he was worthy of leading man dollars and status. The Thunder traded Harden to Houston, where he has more than proved his point.
It's not a tale of selfishness. Harden and Howard deserve the ball, and know what to do with it. But if the Rockets are counting on Harden and Howard being happy in any role so long as they're winning, well, history would argue otherwise.
Even before Howard, there have been issues on the Rockets with how much Harden needs the ball. For instance, Lin is best with the ball, too, and struggled to be effective playing with Harden. Imagine if Lin and Howard develop into a potent pick-and-roll combination. Will that sit well with the bearded shooting guard?
Teams wooing Howard tried to scare him off the Rockets by pointing out that Harden likes to shoot almost as much as Bryant does, which is something of a stretch -- Harden passes more -- but it's in the neighborhood of true.
You can say that Harden shot that much only because the Rockets needed him to, and with efficient-scoring Howard on the court it'd make more sense to hand it over. But should Harden shoot at anything like Bryant levels, will we see the return of the gloomy, less productive Howard who played for the Lakers last season?
A roster with little wiggle room
By the time the smoke has cleared and Howard is officially a Rocket -- the news conference is expected at the end of this week -- the Rockets will likely have the ability to add minimum contract players and somebody with the mini midlevel. And that's it.
In other words: Andrei Kirilenko isn't walking through that door. That means the starting power forward will be some combination of Jones or Motiejunas -- who are young and promising, but come with a lot of unknowns.
There are a lot of question marks about how it all fits together. It might work, but if it doesn't, this is a contender in need of a major trade, which is almost the same as not being a contender at all.
Patrick Beverley -- who has emerged as a very good point guard for the Rockets -- had the key line in this Michael Wallace article about how Howard will fit in Houston: "Nobody," says Beverley, "has a crystal ball."
So true. We simply don't know what will happen.
One thing that could happen, though, is that the Rockets could win a title in the next few years, which is new, and a credit to the franchise.