Derrick Rose displays mental toughness -- whether he's vocal or not. The Lakers' mental errors are costing them games. And Wizznutzz intern August Strindberg makes some mental notes on his revealing "Bracket of Personal Torment." Go mental at the TrueHoop Network: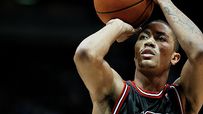 Matt McHale of By the Horns: "Okay, I should probably start off by talking about how the Bulls finally broke their road jinx and then discuss what the 103-96 win means to their push for the playoffs…but right now all I can think about is Derrick Rose. Just glancing at the box score, you might be tempted to think his line -- 25 points, 6 rebounds, 3 assists, 1 steal -- was merely 'very good.' Especially if you notice that he committed a game-high 6 turnovers. (Ugh.) But you know, my grandpa always used to say: Figures lie, and liars figure. And I'm telling you, Rose owned the second half.
He scored 20 points in the final two quarters on 10-for-10 shooting. And lest you think the kid can't shoot, check it: Only one of those 10 field goals was a layup. During his second-half tour de force, Derrick hit from 17, 16, 11, 20, 17, 16, 12, 16 and 17 feet...
I loved seeing the kid assert himself. The Bulls need that. They really do. He might never be a vocal leader. Some people aren't ... But if he can lead by example, if he can pull the team up by their shoe strings and take them where they need to go, well, then I guess we'll have a superstar on our hands."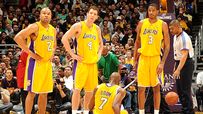 Kurt Helin of Forum Blue & Gold: "It's what makes losses like the one to the 76ers frustrating - mental lapses. If the Lakers bench issues were just a matter of cold shooting or the other team hitting great shots, that happens sometimes. Like that last shot of the game, credit Iguodala. But the Lakers suffer more from the mental lapses than physical ones right now.
How else do you explain that Pau Gasol had just three shots in the second half against Dallas and five against Philly?
The bigger problems have been with the bench unit. As has been said, they are going to struggle some because of personnel - the Lakers two best bench players when things were going right were Ariza and Odom, and now they are starting. Bynum's return next month will help. But it does not excuse the mental errors, the lapses. It's harder and harder to forgive them this late in the season."
THE FINAL WORD
Wizznutzz: August Strindberg's Bracket of Personal Torments.
Roundball Mining Company: An interview with Chris Tomasson -- formerly of the Rocky Mountain News, now of InDenverTimes.com.
Queen City Hoops: Boris Diaw, turnover machine.

(Photos by Jonathan Daniel, Andrew D. Bernstein/NBAE via Getty Images)