Mike D'Antoni should be thinking draft position. John Paxson should be thinking extension for Ben Gordon. Think Mo Williams and Delonte West will snap out of their slumps? Think long and hard: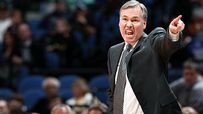 Mike Kurylo of Knickerblogger: "[T]he Knicks should concede the rest of the season and use the remaining 15 games to prepare for next year. One way is to allow Nate Robinson to be the starting point guard (which may have already occurred). Another is to give minutes to Wilcox, Curry (if healthy), Samb, and Nichols in order to better understand how they may help the team...
And in the interim, playing the reserves would increase New York's standings in the June draft. While the only team that they might realistically pass is Indiana ... it's just as important for New York to not allow any of the teams ahead of them to improve their draft day position ... From any perspective the worst scenario would be New York passing all those teams in the standings without making the playoffs. If D'Antoni shifts his main focus from winning individual games to developing the end of his bench, New York would probably avoid such a undesirable fate."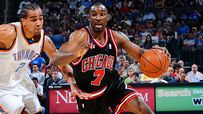 Matt McHale of By the Horns: "Ben Gordon has been the Bulls' leading scorer for the past five seasons. That also happens to be the same number of seasons that Gordon's been in the league. But despite that fact, nobody knows yet whether he's even going to be in Chicago next season … and opinion is pretty firmly divided on whether or not John Paxson should spend any more of the team's precious salary cap space on him. That's too bad. I know BG is streaky and woefully undersized, but he brings it every night, and has been since his rookie campaign."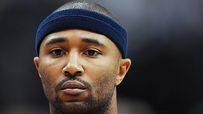 John Krolik of Cavs the Blog: "Mo appears to have hit some sort of a wall, because every other game it seems like his shot's not there, which suggests tired legs more than it suggests something mental keeping him out of his rhythm. Delonte, on the other hand, is in a major, major funk. He played gritty defense and got to the rim a few times, but his shot is off to the point he just can't buy one from outside the paint and he's not moving the ball right now. There's no option here -- we just have to wait for him to snap out of it, because we don't win in the playoffs without him. He's our Lamar Odom -- he's the difference between good and great for us."
THE FINAL WORD
Raptors Republic: Toronto fans are thinking draft.
Hoopinion: The Hawks brutalize Dirk Nowitzki.
48 Minutes of Hell: Some competing thoughts on the Spurs bench.
(Photos by David Sherman, Larry W. Smith, Ronald Martinez/NBAE via Getty Images)