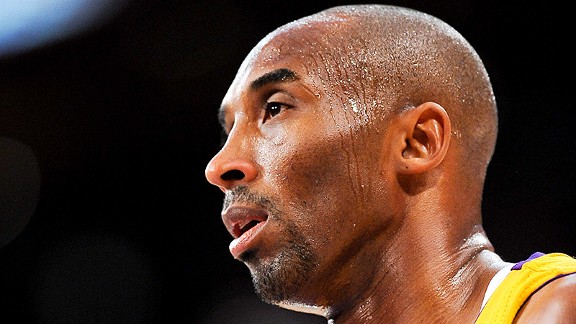 Noah Graham/NBAE/Getty Images
Building around Kobe comes with the cost of alienating everyone from Phil Jackson to Dwight Howard.Dwight Howard and Chris Paul were both free agents this summer and might have joined forces on the Los Angeles Lakers, sources told Chris Broussard.
Put on your Mitch Kupchak hat and picture that.
The idea died quickly, of course. Not because it doesn't make perfect sense. Not because it wouldn't be far better for the Lakers, both in the long term and short term. But because it would have meant cutting Laker icon Kobe Bryant loose, which is complicated for so many reasons, not the least of which is how Lakers fans view Bryant.
Even without Paul, and with Kobe staying, Howard was interested in remaining a Laker, sources tell Ramona Shelburne and Marc Stein, -- if Howard could get a clear picture of when Bryant would hand Howard the torch.
You know who the Lakers said would control that decision? According to the sources of Shelburne and Stein: Not Jeanie Buss. Not Jerry Buss. Not Kupchak. Not departed Lakers stalwarts Jerry West, Magic Johnson or Phil Jackson.
Kobe.
The only logical conclusion: Waiting for Kobe to hand over the torch is a sucker's game.
That has been the story thus far. Kobe would be in control of this franchise-turning decision, and most other stuff too. It is at the heart of his profound global on-court appeal. Who doesn't love the idea of a swashbuckling butt-kicker ready to take full command of the battlefield? He is exactly that.
Who's scared to take the big shot? NOT THIS GUY. He shrinks from nothing, leaves nothing to chance, or others.
That has also long been, predictably and increasingly, his undoing. His willingness to take the big shot has been lauded, but in fact there were plenty of good shooters open, ready and ignored.
"I sometimes think Kobe is so addicted to being in control that he would rather shoot the ball when guarded, or even double-teamed, than dish it to an open teammate," Jackson wrote in his 2004 book "The Last Season." "He is saying to himself: How can he trust anyone else? Well, he should learn to trust."
Bryant has personally driven the Lakers to success over the past couple of decades. But his white-knuckle grip on the steering wheel has, paradoxically, also long kept the Lakers from being as good as they might have been. Even as age and injuries have limited his production, Bryant has consumed an increasing share of the Lakers' ever-more-precious under the new CBA cap space. His cost is going up even faster than his salary and has always been tough to quantify, though it is weighty.
How many wins did it cost the Lakers when Bryant deflated teammates such as Andrew Bynum, scared off free agents such as Howard, played an essential part in the departure of Shaquille O'Neal (which likely cost the Lakers a title)? What is the bottom-line cost of long forcing the Lakers to ignore more-likely-to-succeed options to run inefficient Kobe-centric plays?
The Lakers would win or they would lose, but nobody sticks Bryant in the corner.
Jackson has long wrestled with how to talk about Bryant. He has partnered with him, coached him to great success, won rings with him, and lauded him every which way.
And yet Jackson's legacy as one of the greatest coaches in sports history hinges on his ability to get individuals -- including Michael freaking Jordan -- to think team-first.
Jackson has written several books with this underlying theme. His latest and best book, "Eleven Rings," ends with this conclusion: "At some point you have to let go and turn yourself over to the basketball gods. The soul of success is surrendering to what is."
But Bryant never fully bought in. Jackson implies that Bryant's need to control will dog Bryant, and anyone who plays on or coaches the Lakers for as long as Bryant is around.
Jackson has a vision for how it could be better, rooted in his playing days with the Knicks. Jackson quotes his former Knicks coach, Red Holzman: "On a good team there are no superstars. There are great players who show they are great players by being able to play with others as a team."
It's one of a dozen tales in "Eleven Rings" in which Jackson indirectly needles Bryant's approach. Other times he's much more direct:
"Kobe was building his résumé at the expense of the rest of the team. … Kobe's selfishness and unpredictability gave the other players a sinking feeling that he didn't trust them anymore, which further eroded team harmony."

"I admired Kobe's intense desire to win, but he still had a lot to learn about teamwork and self-sacrifice. … I questioned whether he'd be able to contain his ego long enough to master the triangle system."

"Kobe was hell-bent on surpassing Jordan as the greatest player in the game. His obsession with Michael was striking. Not only had he mastered many of Jordan's moves, but he affected many of M.J.'s mannerisms as well. When we played in Chicago that season, I orchestrated a meeting between the two stars, thinking that Michael might help shift Kobe's attitude toward selfish teamwork. After they shook hands, the first words out of Kobe's mouth were 'You know I can kick your ass one-on-one.'"

"Now I know why the guys don't like playing with you," Jackson brags of telling a young Bryant, adding "You can't be captain if nobody will follow you."
Bryant is getting older now. Slowing down. Hardly any NBA guards have been this good this deep in their careers -- and now he's coming off one of the worst injuries there is, while his salary skyrockets, the luxury tax gets more serious than it has ever been, and the team is more interested than ever in creating cap space. Any reasonable projection of what he can deliver the team is down. Any reasonable projection of what he will cost the team is up, and now evidently includes yet another scared-off All-Star center.
There was a time when Bryant's play was so transcendent that the byproducts of his controlling nature -- missed game-winners by the dozen, O'Neal or Bynum leaving town, might have been worth it. It was the cost of doing business with an MVP shooting guard who delivered five titles. The next and final phase of Bryant's career, however, will either be about giving up some control -- for instance by recruiting and helping to develop the next generation of Laker greats -- or things will get ugly.