Should the Spurs rest Tim Duncan down the stretch and trust they can win playoff games on the road? Can the Celtics trust Rajon Rondo to nail shots from mid-range? Do Raptors fans still trust Bryan Colangelo to assemble a winner in Toronto? Take it on trust at the TrueHoop Network.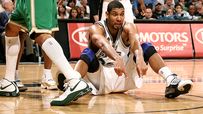 Timothy Varner of 48 Minutes of Hell: "The issue before [Gregg] Popovich is whether or not he should give [Tim] Duncan some rest prior to the playoffs. From where I sit, the answer is an unqualified 'yes, please.' At a minimum, I'd like to see Duncan sit out one game apiece of the remaining three back-to-backs, but I suspect Popovich already intends to make this move. If that's the case, the Spurs should be more aggressive. They should look for opportunity to accomplish two objectives at once: to provide Drew Gooden with meaningful minutes and give Duncan time on the shelf. The Spurs play the Warriors, Hawks and Clippers this week. That's the easiest remaining 3 game stretch of the season. Perhaps, Coach Popovich should make a go of it sans Duncan and [Manu] Ginobili. Maybe they only go 1-2 in those games and squander an opportunity of winning back the 1/2 game they just gave up to the Rockets. But that's better than entering the playoffs with a partial Duncan."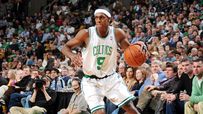 Zach Lowe of Celtics Hub: "Read that again: Ray Allen penetrated and kicked to Rajon Rondo for a jump shot.
This doesn't have to be an isolated incident; I've written before about Ray Allen's ability to create off the dribble because of the way defenders have to rush out at him in a panic ... I'm not saying Rajon Rondo has turned into Ray Allen or even that he could do so in his wildest dreams. I'm saying that Rondo has developed a serviceable jump shot, and that he's come a long way from the player the Knicks completely ignored in a defensive strategy that was (justifiably) touted at the time as one way to successfully defend Boston. Some team will probably try that again, and it might work. But I'm guessing it won't. And if that guess is right, the Celtics will go into the playoffs with four elite offensive players, not three."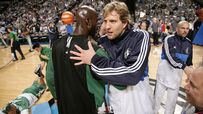 Rob Mahoney of Hardwood Paroxysm: "The greatest moments in NCAA history are great tournament moments (or great team moments), not great Michael Jordan moments or Christian Laettner moments or Carmelo Anthony moments. Because the NBA at the very least creates the illusion of consistency and longevity ... the focus is on the players, who are an establishment unto themselves ... Kevin Garnett and Dirk Nowitzki, two players who never enrolled in one of America's fine collegiate institutions, revolutionized the power forward position forever. MJ redefined greatness not because of the system-imposed limits at North Carolina, but because of his sustained greatness in Chicago. Shaquille O'Neal and Wilt Chamberlain forced the game (and its rules) to change to specifically address their dominance at the pro level, not in college arenas. The most significant basketball change has and will always take place in the professional sphere. If not simply because the players are bigger, stronger, and outright better than their college counterparts, then because the ability to remain relevant for more than a few years allows players the proper avenue to demonstrate their brilliance."
THE FINAL WORD
Raptors Republic: A blueprint for recovery.
Knickerblogger: Actually, the Knicks have improved.
Hornets247: Rasual Butler -- proving reluctant bloggers wrong.

(Photos by Brian Babineau, Nathaniel S. Butler, Glenn James/NBAE via Getty Images)