The acquisitions of John Salmons and Brad Miller have the Bulls poised for a #7 seed. Phil Jackson is looking toward the playoffs with a shorter bench rotation. Is the Suns' dismal record on Turner Network Television going to cost them a postseason berth?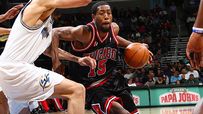 Matt McHale of By the Horns: "The deal that brought Brad Miller and John Salmons to Chicago was considered by some to be a surrender trade, a sign that Pax had failed in his efforts to bring in a star to play alongside Derrick Rose. That coulda-been player was, supposedly, Amar'e Stoudemire ... Even worse, some people felt that Paxson got fleeced into taking on Brad Miller's hefty contract.
Well, Miller has been better than expected. He's a starting center playing backup, which gives the Bulls depth and versatility up front, something they haven't had in years. And Salmons, well, he's been fantastic, particularly since Luol Deng went down with that stress fracture. During March, he's averaged nearly 22 points while shooting 50 percent from the field and 40 percent from beyond he arc ... Salmons provides a dimension that Bulls have sorely lacked: A player who can create his own shot and consistently get to the basket. That opens things up for everybody else. Oh, and he's a pretty good defender, too."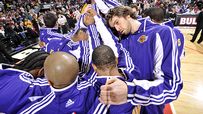 Kurt Helin of Forum Blue & Gold: "One quick thought on the sad bench performance in the second quarter last night - it forced Phil Jackson to use a more playoff-like rotation in the fourth quarter. [Pau] Gasol and [Lamar] Odom stayed out with [Jordan] Farmar, [Luke] Walton and Sasha [Vujacic] at the start. Then almost as fast as DJ [Mbenga] came in for Gasol, Kobe [Bryant] returned for Odom. A couple more minutes and the entire group of starters were back on the floor, until the game was very well in hand.
Andrew Bynum could change some of that."
THE FINAL WORD
Daily Thunder: Is Russell Westbrook really the Thunder's point guard of the future?
Valley of the Suns: Phoenix is 0-10 on TNT this season.
Celtics Hub: The five teams C's fans love to hate.
(Photos by Ned Dishman, David Dow/NBAE via Getty Images)