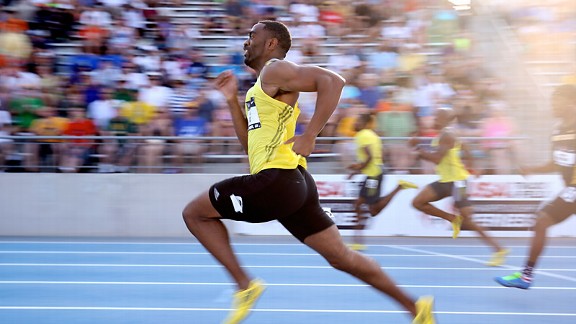 Andy Lyons/Getty Images
U.S. sprinters face far more sophisticated testing than NBA players.
Not long after track and field implemented a new kind of testing, three sprinters, including top American Tyson Gay, have failed tests for performance enhancing drugs.
If he were an NBA player, however, it's likely Gay never would have failed any tests -- because the NBA testing program is far behind the state of the art.
Perhaps the most interesting reaction to Gay's infraction came from another celebrated U.S. runner, Kara Goucher, who tweeted encouragement to the United States Anti-Doping Agency:
I am heartbroken over the news of Tyson Gay. Always liked him. Keep cleaning up the sport USADA, there are many more cheats out there.

— Kara Goucher (@karagoucher) July 14, 2013
For years, doping has confounded us as sports fans. Nobody likes cheats. But we do like some of the heroic athletes who have failed tests, and siding with the school-marmish anti-doping police can feel weird, too. And don't we have to accept that advances in medical science will mean changes to all sports?
But the more years we spend wrestling with the issue, the clearer it is becoming: Goucher is exactly right. Even as sports evolve and substances come and go from the banned list, the line must be drawn, and clearly. Drug cheating must be policed aggressively and the best testing must be used -- or else it is meaningless.
Failing to do that does a career-altering disservice to the most heroic of all those in the game: athletes determined to compete clean, who are the very athletes the NBA and the NBA Players Association insist they represent. If we are to learn the lessons from sports that got this all wrong, and if we are to acknowledge the powerful temptation of performance-enhancing drugs in 2013, then we know that aggressive testing is for the benefit of those clean athletes, the ones we can all cheer for loudly, without reservation.
Nick Davies, spokesman for track and field's governing body, makes this point in a statement: "The IAAF's commitment to anti-doping in athletics is unwavering because we have an ethical obligation to the majority of athletes who believe in clean sport."
This is where the NBA must play catch up.
An ethical obligation to clean athletes
Imagine trying to make a career out of beating dopers like Lance Armstrong while racing clean. For many years, that's what professional cyclist David Millar attempted, as part of an underground group of young riders who did not cheat, even though to do so would have made their lives much easier. They persisted in the hopes that sooner or later the authorities would vindicate their extra work and tormented lives. Their prayers were answered, they believed, in 1998, when one of the top teams was busted with an almost-comedic quantity of doping products. All kinds of people got in trouble in the "Festina Affair," and the charade that the sport might be clean was finally over.
"For young, clean riders the grand exposé was wonderful news," writes Millar in his book "Racing Through the Dark."
"It was a revenge of sorts on the dopers, whose charged-up performances had made our lives hell. In our naïveté, we thought it would change the sport overnight. Surely now that everybody knew what was going on, the powers that be would be forced to act. Unfortunately, this did not happen."
Millar had teammates and coaches who encouraged him to dope. Despite dogged training and phenomenal talent, dopers beat him to prize money and employment contracts more often than not. Yet for years, Millar kept riding clean anyway, out of some kind of conviction that it was the right thing to do.
Stern and other NBA officials would be wise to note, though, that Millar greatest disappointment was that his sport did nothing to support him in that conviction.
"There was nobody to tell us that we were doing the right thing, that we should be strong and believe in ourselves," he writes. "In fact, there was no anti-doping support or leadership whatsoever. [Cycling's governing body, the UCI] and the team bosses considered their jobs done because the riders had signed meaningless charters pledging not to dope. Meanwhile, the dopers carried on doing what they were doing, while the nondopers raced alongside them."
Likely we'll never know what really happened, but the worry was that the UCI was soft in pursuing drug cheats because they didn't really want to catch them. It would have hurt the sport's bottom line for a star like Armstrong to get busted in his prime, when he brought a global spotlight to a struggling sport -- and indeed the good testing came nearly a decade after the Festina Affair and only after Armstrong had retired (although he later made a comeback).
There will always be good reason to question whether any league should police itself, the NBA included. Independent bodies like the World Anti-Doping Agency and the U.S. Anti-Doping Agency exist to offer alternatives -- it's no surprise that the sports they police feature far more aggressive testing, innovations and busts. The NBA could in theory turn its testing over to the same USADA that busted Armstrong, that Goucher praises and that caught Tyson Gay.
Millar, meanwhile, grew tired of waiting for cycling's bosses to rescue him and joined the drug cheats. After all those years of racing clean, Millar ended up getting caught like so many others. Now he's reformed, still racing and an outspoken activist on behalf of clean athletes.
But he insists that with good testing creating a level playing field from the start, he and many others would have never doped. What a pity that the sport's governing body let the culture of the sport get so out of hand, to the point that even those who hated the idea of doping were forced to consider it.
And if we're thinking that there might be some NBA players out there who, like Millar, would like to stay clean but wonder if a little cheating might help their careers without putting them at risk of a failed test, well ... how would the league and the union explain to them, and their parents, why they don't use the best available tests?
The biological passport
Armstrong got away with beating all kinds of drug testing programs, but has mighty respect for this one. One of Armstrong's former teammates says he decided to come clean in part because the good testing made his old ways too stressful.
Track and field started the good testing program and quickly found 36 violations it would not have otherwise known about.
It's called the biological passport, and while no system is perfect, the evidence suggests that this one's far better than what the NBA does now, which is riddled with opportunities for drug cheats. It's a system of analyzing athletes' blood and urine year-round to spot odd fluctuations. Baseball has started using it, as has tennis. The other major North American sports are lagging far behind, among major global leagues.
In the NBA, David Stern last addressed biological passports in February, when he said, "With respect to the biological passport, I think the blood test is the precursor to the biological passport. And that's a subject for discussion with the Players' Association."
Stern's pointing out something incredible: Not only does the NBA not test players' blood year-round, but it doesn't test their blood at all. Never has. Word is that the league and union are on the road to changing that with human growth hormone testing of blood in the works. But Stern is pointing out that when it comes to advances the league must walk before it can run.
My interpretation: Don't hold your breath for the best drug testing in the world.
Meanwhile, the NBA would seem to have a big opportunity right now, were they of a mind to force the issue. The Lance Armstrong case has shifted the public's views about doping -- fans are more attuned than ever to the need for anti-drug programs.
The traditional obstacle to progress has been the strength of the players union, which is leery of violating player privacy. But the union, still trying to reform itself in the wake of the Billy Hunter scandal, has been without a leader for the better part of a year and could scarcely be weaker.
Stern has a track record of exploding every obstacle. Is there anyone better known for getting his way? We're talking about a league that recently talked players into handing over billions compared to what they would have made under the old collective bargaining agreement.
State-of-the-art testing seems like a no-brainer. It's racking up victories in other sports, is celebrated by honest athletes and, long-term, would inoculate the NBA against the kinds of broad PEDs scandals that have consumed sports like baseball and cycling.
Clean athletes are waiting for someone to make it happen; the excuses for delaying are making less sense by the day.