Jason Kidd -- staying or going? The Spurs -- live by the 3PA or die by the 3PA? Phil Jackson -- off-day practices or a few hours of extra shut-eye? Explore the either/ors at the TrueHoop Network.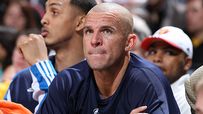 Rob Mahoney of Two-Man Game: "Depending on how you prioritize the Mavs' talent, [Jason] Kidd could be anywhere from the team's best player to the third best. What he does at the point is irreplaceable given the current chips, and finding an acceptable substitute in a timely fashion given the Mavs' salary cap situation would be nearly impossible. That's why, as much as it pains me to say it, the Mavs' future rests squarely in the hands of Jason Kidd. If Kidd opts to leave the Mavs this summer, any chance of contention in the near future leaves with him, and the rebuilding plan should go into effect immediately. Assuming we actually have a rebuilding plan."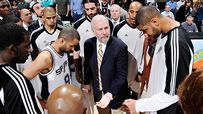 Graydon Gordian of 48 Minutes of Hell: "I understand the Spurs are one of the best 3-point shooting teams in the league. I understand that our offensive scheme is perfectly designed to create open looks for perimeter shooters. But we need to have the sobriety to realize that, when the outside shots aren't falling, the cure isn't more outside shots. When we struggle from deep, we need to work the ball inside or earn some trips to the charity stripe. The Hornets had a poor night from the field as well (.375) but by initiating enough contact to make it to the free throw line 33 times (and making 32 of those attempts) they were able to produce points consistently. I've made this point far more times than I care too. The fact of the matter is, even for a talented shooting team, 29 3-point attempts is too many."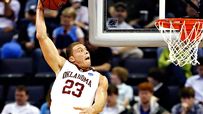 Royce Young of Daily Thunder: "After watching Blake [Griffin] for two years in college and four in high school, I'm honestly starting to wonder if he's the type of player you sell the farm to get. People can question the little things about him -- free throw shooting, defense, mid-range jumper -- but he's got those tools. They just weren't always on display. He didn't need the mid-range game because he could post up any player in America. His defense sometimes didn't look great because he was concerned with foul trouble -- OU couldn't afford for Blake to not be on the floor. And his free throw shooting numbers look bad, but he's got a great release and a small mechanical hitch. Nothing some good coaching can't fix."
THE FINAL WORD
Celtics Hub: A tribute to rookie Alonzo Mourning's heroics against the C's in the 1993 Playoffs.
Raptors Republic: What to do with Toronto's supporting cast in the offseason.
Forum Blue & Gold: Getting inside Phil Jackson's head.
(Photos by Don Smith, D. Clarke Evans, Joe Murphy/NBAE via Getty Images)