The Spurs biggest test might come in the offseason. Could the Mavs give the Lakers a test in a 1-8 matchup? And the Raptors are testing the patience of even their most loyal fans.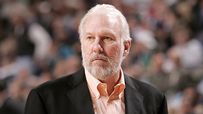 Timothy Varner of 48 Minutes of Hell: "Gregg Popovich has carved a unique place for himself in the pages of sports history. He's a Hall of Famer, both as a coach and front office executive ... It's an elite little club, chaired by Red Auerbach. Invariably, failure follows on the heels of such attempts. It's not an infrequent thing to see an elite coach attempt to hold an office in General Management concurrent with their gig on the sideline. Some find success, but it's a rare thing. Usually, it ends in a mess. Gregg Popovich has not only walked that tightrope, but he's done so hopping on one foot while juggling bowling pins. Or, put differently, he's shown olympian balance, especially with the rigors of small market shaking the line at either end. Men like R.C. Buford have done much of his heavy lifting, but Pop's singular genius is almost without peer. That genius will be tested this offseason."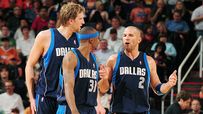 Matt Moore of Hardwood Paroxysm: "Let's talk Dallas. We wrote them off. You did, too. Don't lie. Liars go to hell, Billy. We all wrote them off and chanted 'Thank You, Cuban!' along with the Nets' twelve fans (and we are still right to have done so), and figured they would embarrass themselves on the way to either a first round playoff exit or missing the dance entirely. Well, the first round exit still seems likely, but embarrassing themselves doesn't. [Jason] Kidd is playing the best ball he has in years, [Josh] Howard is back to full force, Dirk [Nowitzki] is so damn consistent we should all be taken to court for the crime of not appreciating it, [Jason] Terry is their sixth freaking man, and they have depth all over the place. When this team is playing well, and if you watch them right now, they're playing really well, they're still a loaded team with a ton of playoff experience."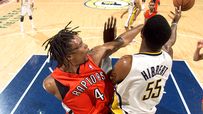 Arsenalist of Raptors Republic: "The Pacers laid down a beating to remember on the Raptors and unlike the last time we were in Indiana, there was no comeback to feel good about. The question raised during this hammering was whether the Raptors were playing really crappy or were just putting out a crappy effort, the answer's probably a potent mixture of both ... I realize the game doesn't mean much but there's this thing called pride that tends to disappear from this unit at times and makes me question every single character on this roster ... When we were down by 41 in the third quarter nobody on the bench or on the floor looked peeved about being sodomized. A result like this significantly diminishes the value of that six-game winning streak because as much as winning games says about your basketball potential, a loss like this says even more about your character and mettle, something which should be a prerequisite for any Raptor next season. The varying effort that the Raptors play with scares me because it tells me that the problems go beyond talent and strategy but are deep-rooted in their spirit."
THE FINAL WORD
Hornets247: Steve Nash bests Chris Paul.
Roundball Mining Company: A gut check for the Nuggets at Staples Center tonight.
Valley of the Suns: Too little, too late.

(Photos by Glenn James, Barry Gossage, Ron Hoskins/NBAE via Getty Images)