In today's Shootaround, we sort through the weekend's events, and distinguish the meaningless wins from the heartening losses, and the moral victories from the crushing defeats: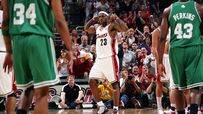 John Krolik of Cavs the Blog: "This game pretty much showed the difference between being on the winning side and the losing side of a rivalry ... Boston's not the team who has something to prove ... They have their spot locked in ... And they could care less about bragging rights or posturing. They're wearing the rings, and they're the champs until someone beats them in a series.
For us, it's different. Not only are we still fighting for home-court advantage ... but Boston is much more than a game to us at this point. Everyone came out hungry. We want to send a message. We didn't want to beat them; beating the Celtics without KG on our home-court is what was expected. We wanted to leave no doubt. We wanted to beat them so badly that it went beyond any possible hedging factors. We wanted it to be too much to brush off. I can't say what type of impact this is going to have -- I don't really think it affects how a series shakes out one way or another. If/when these two teams go at it, they're both going to be confident, prepared, and on top of their games. A regular-season blowout isn't going to change that dynamic."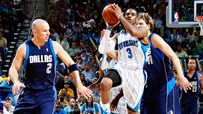 Rob Mahoney of Two Man Game: "The numbers didn't turn up in the Mavs' favor, but the game definitely acted as an extension of the new Mavs rather than a reversion to the old ways. When you win, you don't always demonstrate progress, and when you progress, you don't always win. The Mavs were within three points with a minute and a half to play, but James Posey made a smart pass on an out of control drive to set up Peja Stojakovic in the corner for a three (he was 1-7 on threes prior to the shot). It turned out well for New Orleans, kept the Mavs at arm's length, and essentially sealed the game. I'm disappointed that the ball didn't bounce the other way, but that doesn't mean I'm at all displeased with the Mavs' effort or overall performance."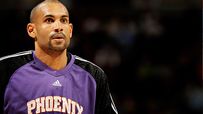 Brandon Haraway of Valley of the Suns: "Grant Hill wants to be a Phoenix Sun next year, and you know what, every single Suns fan should be pulling for him to be back. Let's see if Steve Kerr and Robert Sarver finally get it right and bring back the man who doesn't seem to realize the Suns' season is over, the man who has played with heart all year and the man who is about to play in all 82 games. This was never more evident than Saturday night in Phoenix's 110-97 victory over the Minnesota Timberwolves. On a night when Hill logged the most minutes of all the starters (23), he showed the next generation of Suns the way it should be done. He scored 19 points in those 23 minutes, missing just one shot and getting four steals."
THE FINAL WORD
The Painted Area: A dispatch from the Nike Hoops Summit in Portland.
Celtics Hub: Don't worry so much.
By the Horns: Derrick Rose -- Mid-range assassin.
(Photos by David Liam Kyle, Layne Murdoch, Doug Pensinger/NBAE via Getty Images)