The Mavs look like they'll avoid the dreaded 8-hole in the West, but the Pistons succumb to the Bulls and will have a weekend date in Cleveland. Meanwhile, the Sixers and Hornets have tough decisions to make about a couple of struggling shooters.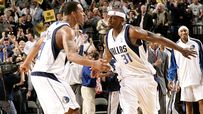 Rob Mahoney of Two Man Game: "What a game, what a game, what a game. In recent weeks, we've seen the 'Race for 8′ transform into a 'Race to Avoid 8′, and, by definition, a race to avoid the Lakers. The Utah Jazz, who sit just one full game behind the Mavs, were nursing a huge lead against the Clippers, and with two minutes and thirty seconds remaining, the Mavs were down five points to the Timberwolves. Heavy stuff. But from that point on, the Mavs committed few mistakes. They got exactly the offensive looks they wanted, and capitalized on most of them. They locked down defensively, and ceded a single basket due to unfortunate circumstance alone. Two and a half minutes, a 9-2 run, and nearly flawless execution. In the biggest moments of this game and possibly of the season, the Mavs did not disappoint. Shot after shot, stop after stop, all culminating in a defensive stop by Dirk [Nowitzki]/Erick Dampier and a huge go-ahead bucket by Jason Terry with 0.2 seconds remaining."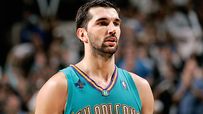 Ryan Schwan of Hornets247: "There is much made about the idea that Peja [Stojakovic] isn't having plays run for him, that he's being mis-used, that he should be sent in motion. So I kept track of plays where Peja was moving his feet, clearly having had a play called for him. There were twelve in the game. One, [Chris] Paul saw an opening and short-circuited the play, diving to the basket and scoring. Twice Peja got free off a single pick as [Shane] Battier got momentarily lost, and got two nice open shots. Three times, Peja ran off a set of three staggered picks, resulting in a nice open shot, a hurried deep three, and Paul being unable to get the pass to him because he was covered too well. Six times, he ran off a pair of picks and couldn't get open at all. For those of you keeping score, that's 12 plays for three open shots and an opening for Paul. If that's the return, I'm not sure it's worth the investment. And if the investment continues to be made, he needs to do better than 0-4 shooting (1-7 for the game, including shots off plays that weren't designed for him as a primary option)."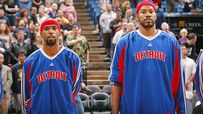 Dan Feldman of Piston Powered: "With a 91-88 loss to Chicago, Detroit will have the eighth seed and a first-round matchup with Cleveland ... [I]t's a shame that's Detroit's fate. In their biggest game of the season, the Pistons played the best they have in a while. Detroit and Chicago were evenly matched. They fought from start to finish, dove all over the court, played physical - and most importantly, played well. The game looked like a four-five matchup in the first round.
The Bulls are playing their best basketball of the season. They've won five in a row, nine of 11 and 12 of 15. And the Pistons are still 8-5 when Richard Hamilton and Rasheed Wallace both play and Allen Iverson doesn't. That clip would give the Pistons 50 wins over the course of a full season and put them comfortably in fourth place in the East. To make matters more impressive, eight of those games were against playoff teams (including two wins over Orlando and one over Boston). And most of those games were on the road."
THE FINAL WORD
Roundball Mining Company: J.R. Smith explodes.
Philadunkia: Falling out of love with Willie Green.
Two Man Game: Deep thoughts on the Mavs' bench.

(Photos by Glenn James, Rocky Widner/NBAE via Getty Images)