Shortly after doing what "experts" do and telling everyone who I thought should win everything, I took a few minutes today to reflect on it.
Of all the picks, the one I feel best about is Nene as Most Improved Player. (And no, that's not just because David Thorpe and I made that same pick, although it helps!)
There's a really obvious reason: About this time a year ago Nene returned from having a malignant tumor removed. He had been out for two-and-a-half months.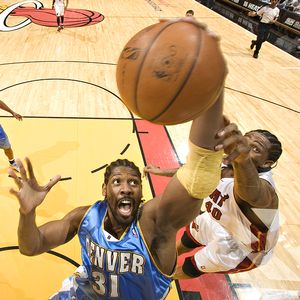 But that's not all! He did the Lance Armstrong: Started with some potential, fought off testicular cancer, and came back as an absolute beast.
There are some players that you admire. There are some players you respect. Then there are some you fear.
The proper attitude for a big man in the paint is be an owner, not a renter. You want to be the mayor of that place. You want to walk around like it's yours, and you'll be in charge of what happens there.
A lot of big men get themselves some territory down there for a moment or two, do what they have to do, and then leave. But the real hombres settle in for the night.
Nene is starting to get like that, and that's a foundation of the Nuggets' becoming a juggernaut of team that ran away with the second in the Western Conference sweepstakes.
Although his rebounding is down a little bit, Nene's numbers are way up in nearly everything else -- not just compared to last year, but compared to his entire career. He's having an all-time season, and it's not close.
Consider these one year improvements:
His PER is up from around 11 to around 19. 15 is average.

His True Shooting Percentage will finish the season at about 65%, compared to 46% last season.

By the metric of Win Shares he has gone from last year's 0.3 to this year's 9.5 and counting.

His fouls per 36 minutes, meanwhile, are down from 6.2 to 4.0.

His free throw percentage is up from 55% to 72%.
Remember, he was once discussed as a bad contract. Not anymore.
Now, do I think he'll win the Most Improved player award? I do not. So I'm going to hand him another award: The guy who is going to be huge in the playoffs that no one is talking about right now. Either they'll win a title, or somebody is going to have to beat the Nuggets. It is not going to be easy. And when they are winning playoff games, I promise you'll be noticing that big Brazilian guy banging around making life difficult for opponents.
If that's not a big improvement over what he was doing a year ago, I don't know what is.
(Photo by Victor Baldizon/NBAE/Getty Images)