The most intense opening weekend in NBA postseason history produced a full circuit of coming out parties, a slew up road upsets, a novel's worth of intriguing storylines, and enough anxiety to power Amway Arena: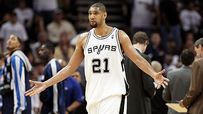 Timothy Varner of 48 Minutes of Hell: "The key to this series is slowing the attack of Dallas' backcourt. My conviction on this point rose to new levels on Saturday. [J.J.] Barea's strong play sounded one alarm, and Tim Duncan's legs sounded another. Tim Duncan's statline looks fine and all, notching 27 points and 9 boards. But he looked a step slow to me, which we should expect from a man nursing injury ... If Tim Duncan is not able to rotate and protect with his usual First Team All-NBA defense, the Spurs are in trouble. The little guys need to help their all-world big by clamping down on the perimeter. And Gregg Popovich needs to give Tim Duncan support by swallowing his vet-first prerogatives and playing George Hill."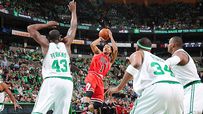 Matt McHale of By the Horns: "The kid was unflappable. He never looked panicked or even worried. When he was interviewed at halftime (with the Bulls holding a surprising 9-point lead) and after the game (after Chicago's even more surprising victory), he wasn't even breathing hard. It was amazing. [Derrick] Rose hit some shots that were just redonkulous. Long jumpers with the shot clock winding down, driving layups in the heart of the Celtic defense (including one in which he got fouled right before lofting it up one-handed on the baseline from slightly behind the backboard). In some ways, it was nearly as fantastic as Michael Jordan's legendary 63-point performance against the C's back in 1986…or maybe more fantastic, since Rose's effort resulted in an overtime win instead of a double-overtime loss."
Jeremy Wagner of Roundball Mining Company: "The Nuggets know how important this series is for the franchise and to start the game they played like they felt the pressure ... Denver was certainly the hungrier team and they showed it. Whenever two teams play each other for a week or two they develop some bad blood and you get some shoving matches, harsh words and intense glares. Tonight's game felt like game four from that standpoint ... defensively and on the boards [the Nuggets] made sure they accomplished what they wanted, whether holding their ground or clearing space. They were not bumping into other players away from the ball just to be physical, they were playing basketball physically."
THE FINAL WORD
Piston Powered: Anyone and everyone who writes about the Pistons discuss the state of the team.
Hoopinion: How the Hawks' defense came together at the right time.
Orlando Magic Daily: The Magic's to-do list for Game Two.
Raptors Republic: In-depth evaluation of Toronto head coach Jay Triano.
(Photos by Ronald Martinez, Brian Babineau, Garrett Ellwood/NBAE via Getty Images)