Boston and San Antonio proudly bounce back in Game Two. Gregg Popovich didn't win coach of the year -- but his disciple in Cleveland did. And how can Philly and Houston possibly top their Game One efforts?: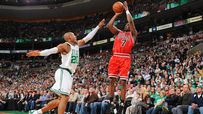 Matt McHale of By the Horns: "You wanted playoff drama, you got playoff drama. This game had everything: Fencing, fighting, torture, revenge, giants, monsters, chases, escapes, true love, miracles ... Okay, okay. That was actually The Princess Bride. But this game sure had its share of fairytale-like elements. A proud but ailing champion. A fierce and determined underdog. Mortal combat. A duel for the ages. And, of course, a thrilling last-second victory. Unfortunately, the Bulls were not the recipient of tonight's happy ending…the Celtics won 118-115 to even this best-of-seven series at one game apiece. But what a wild ride it was. I literally cannot summarize this game. It was way too epic, far too full of twists and turns, a million little momentum shifts and heroic deeds. (I'm pretty sure the live broadcast saved a burning orphanage and walked several little old ladies across the street…maybe even rescued a kitten from a tree.)"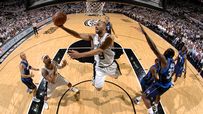 Rob Mahoney of Two Man Game: "Much like Saturday, the Mavs were hit in the mouth early. But all the moments in Game 1 where the team seemed gutsy or resilient were vanquished under Tony Parker's (38 points, 16-22 FG, 8 assists) thumb. The Mavs trapped, they switched, and they hedged…or at least they engaged in defensive sequences that remotely looked like they should have been those things. I'm not sure that Parker is ever fully solvable if he has the mind to drive at will and the determination to break a team's spirit, but it's certainly possible to slow the guy. The Mavs couldn't even accomplish that much, and the myriad of strategies they threw at TP were poorly executed due to technique and personnel."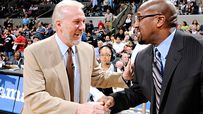 Timothy Varner of 48 Minutes of Hell: "Great people surround themselves with great people. Put differently, Mike Brown was already a good coach when Pop hired him. Pop saw a great coach in Brown, and that's why he was hired. If we're going to tag Pop with genius, it's the genius of discretion. He's been smart enough to surround himself with the right people.
Dan Gilbert understands this principle. He went out and hired smart people from a smart place. He hired Danny Ferry. Danny Ferry hired Mike Brown. Mike Brown hired Hank Egan. When Brown's Cleveland offense was criticized for being too stiff, Brown spent time with Ettore Messina. The Spurs are very careful about maintaining their culture. When they bring in a player or hire front office personnel, they're highly selective. They're looking for Spurs. They're looking for intelligent, professional, hard working, and, generally speaking, good people. Whenever someone new comes in, they're immediately and always surrounded by people who contribute to their success. The story of the Spurs is found in those that follow."
THE FINAL WORD
Celtics Hub: Boston's Game Two adjustments on Derrick Rose.
Rockets Buzz: How can Houston top Game One?
Philadunkia: Can the Sixers maintain the momentum?
(Photos by Brian Babineau, D. Clarke Evans/NBAE via Getty Images)