Feel that? It's the Eastern Conference changing underfoot. The Bulls are building something new with Derrick Rose. The Cavs appear poised to claim the mantle, but still have work to do. And the Celtics' fate is in purgatory with Kevin Garnett's knee: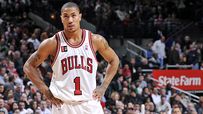 Matt McHale of By the Horns: "Speaking as someone who wasn't initially in favor of the [Derrick] Rose pick - I thought [John] Paxson should go after Michael Beasley to fill their continuing need for inside scoring - it has been a total blast watching him play. I knew he was going to be good, but he was far better out of the gate than I could have expected. He never hit the dreaded rookie wall. He never lost confidence, even when the team was really struggling to beat even the worst of teams back in January. He developed his jump shot during the season. Though far from perfect, particularly on defense, he was a steady presence every single night. What's more, Derrick gives me real hope for the team's future. Even when experts were foolishly projecting the Bulls as a potential Finals team after their overachieving 2006-07 campaign, I never felt like they had 'it.' You know, the superstar power necessary to make it to The Next Level. Well, Derrick is 'it.' I really believe that. And this award…well, get ready, because it's going to be the first of many."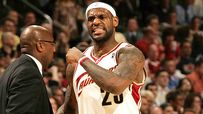 John Krolik of Cavs the Blog: "I don't think you can say this series is in the fridge until we get one in Detroit. I mean, you can say it, and you might even be right, but it doesn't do much. Think of the last two times we met this team in the playoffs, when they beat us twice on their floor and thought they were coming to Cleveland to mop up. Is the talent gap between the teams much, much, wider now? Yes. But Karma is a bitch. So I'm not going to get too cocky. Hell, I'm not going to believe these Pistons are dead until the clock reads 0.00000000 on the fourth win. I've spent too many nights awake because I think I can hear 'Deee-Troit BASKET-BALL' somewhere off in the dark recesses of my mind."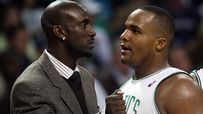 Brian Robb of CelticsHub: "This whole [Kevin Garnett] situation reminds of me a saying we have about the climate here in New England, which is if you don't like how the weather is looking, just wait a few minutes. After the last two months of twists and turns, encouraging recovery signs and pushed back return dates, there is likely to be a new saying floating around in Boston: 'If you don't like KG's return prognosis, just wait a few days.' All joking aside, you have to admire the dedication and commitment by KG here by leaving the door open on a return. In the wake of Leon Powe's season ending, the Celtics' front line has been left with two emerging young big men, the potential return (there's that word again) of a power forward who has suffered three concussions in the last three months in Brian Scalabrine and a backup center averaging 7.4 fouls per 36 minutes of play."
THE FINAL WORD
Roundball Mining Company: Game Two is all about adjustments. RMC provides smart visual aides.
Valley of the Suns: Phoenix would be wise to remove the "interim" tag from Alvin Gentry.
Knickerblogger: Trevor Ariza vs. Wilson Chandler.
(Photos by Gary Dineen, David Liam Kyle, Elsa/NBAE via Getty Images)