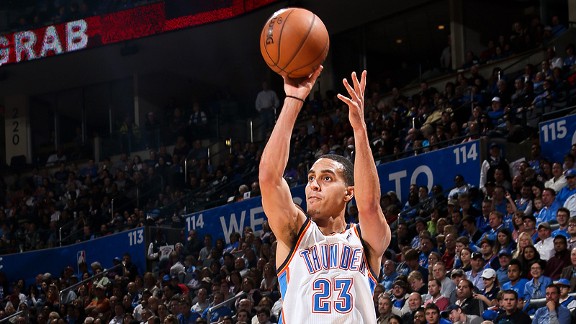 Layne Murdoch/NBAE/Getty Images
On the Thunder, Kevin Martin made almost 80 percent of his crunch-time shots.The venerable Justin Kubatko, founder of Basketball-Reference and a lion of the TrueHoop Stat Geek Smackdown (although, it must be said, a cowardly one -- he won the thing twice and has refused to compete since) wrote (Insider) about teams that under and overachieved last year.
He noted something interesting, specifically that the Thunder were just 3-6 in close games last season, while a year earlier they had been much better. Kubatko writes:
Some might want to blame that performance on the loss of James Harden, one of the league's most efficient fourth-quarter scorers in 2011-12. But Harden's replacement, Kevin Martin, led the NBA with an effective field goal percentage of .793 on shots taken in the fourth quarter or overtime with a scoring margin of three or fewer points.
This piece of news is, for me personally, surprising, delightful and problematic all at once.
First: Raise your hand if you were once a devoted listener to Ryen Russillo's NBA Today podcast.
The story goes like this: In early 2011 I wrote a bunch of stuff about how Kobe Bryant -- despite his reputation -- was no king of crunch time because he misses a hell of a lot. People's thinking about Hero Ball has evolved some in the interim. But back then Kobe won every crunch time poll, whether from players, GMs or fans. That he might not be the best counted as earth-shattering. My friend Russillo was among those to say, essentially, what the hell.
Russillo asked me, on his podcast, something like: If the stats showed that some other player, like, say, the famously efficient Kevin Martin, had much better crunch time stats than Bryant, would I give the ball to Martin over Bryant?
I said that if the stats showed somebody was way better than Bryant at making late shots, I would pick that guy to take that late shot.
And in a small, Internetty kind of way, all hell broke loose. In the retelling, the fun little story among Russillo's listeners has become that I'm the nut who said I'd take Kevin Martin over Kobe Bryant, HA HA HA. It still comes up now and again. Even though I never said that. Such is life.
Now I know better. Now I know that's the wrong question, for two reasons. First, because crunch time shooting percentages, based on tiny sample sizes, bounce around like crazy from year to year and nobody is consistently near the top. Maybe nobody is truly "clutch."
But more importantly, picking any guy to take the last shot, no matter what the defense does, is dumb. Teams with go-to scorers who don't pass much are a cinch to defend and struggle to score, because all five defenders know who'll take the shot, which means that guy never has an open shot.
Covered shots are very hard for any player to make, and that's exactly why the super-talented Bryant misses nearly 75 percent of the time late in close games.
And it's also why, now, this story has taken a twist and, for a season at least, Martin is among the best anywhere at hitting in crunch time: Last season he played with two spectacular late-game ballhogs in Kevin Durant and Russell Westbrook.
Which meant, by and large, Martin did not get the ball in crunch time. Simple as that.
He'd go dozens of minutes without launching a shot, as commentators said things like "this has got to be Durant's time." And so it was. On NBA.com/stats I just noodled around with the stats and found in the last five minutes of a game within five, the Thunder's two stars combined to take 176 shots ... to Martin's 12. Their shooting was crummy -- both below 40 percent -- but Martin barely missed.
My suspicion, in seeing Martin's killer numbers was: That's because Martin didn't get the ball unless he was wide open.
And sure enough, I looked up the video, and that's precisely what it shows. Here's Martin nailing a 3 in overtime against Dallas. There he is breaking the hearts of Nuggets fans on the road, putting the visitors up one with 1:25 left. There he is in Memphis, doubling a three-point lead with a 3. In a season's worth of crunch time 3s, the defense was consistently distorted to Durant and never got close to Martin.
The defense was betting Martin simply would not get the ball -- and it was usually correct.
On the odd nights he did get a crunch time shot, he usually made it, because he has always been an excellent shooter, and in other seasons was his team's go-to offensive weapon. These are warm-up shots for him. Martin played 98 minutes with the game within five in the closing five minutes, and over all that time he took six 3-pointers without missing a single one. He was wide open every single time. He attacked with his dribble six times, and scored twice. The rest of the time he didn't shoot.
Now, I don't know how much this does, if anything, to help Martin's reputation in the minds of fans and Russillo listeners. Martin is making shots lots of players can make, which doesn't make him more talented than Kobe ... there may be no way to rank them or anyone else. Any good scorer can score well in crunch time if the opportunities are there, and crunch time is rare enough that it might never be possible to prove anyone is, long-term, superior.
What's inferior, though, is running the "archangel" offense that the Bulls used for a time with Michael Jordan. If Durant and Westbrook had passed just a little more, the team would have scored more points. Advanced analysis has long shown the Thunder offense is better when the two stars do a little less. The same goes for Bryant, and all the NBA's "closers." Move it to the open man. The team gets better looks, and scores more, 'cause that wide open guy has it easy. Get him the ball, not because of who he is, but because of how alone he is.