Two moments from last night's play that you just know had to be a little hard:
Ex-Starbury
He's all alone.
Standing there, on the left wing. Eager.
It's not his turn. (Will it ever be his turn again?)
For now, it's certainly not.
And so, for a moment last night, with about seven minutes left in the second quarter, there was Stephon Marbury, still looking weird in Celtic green, as alone as NBA players ever get.
I wonder if he was thinking the same thing I was: That's Stephon Marbury, one of the greatest scoring point guards ever to play the game -- the biggest name in Coney Island history, an All-Star, a guy who not only had his own shoe but briefly changed the entire shoe industry.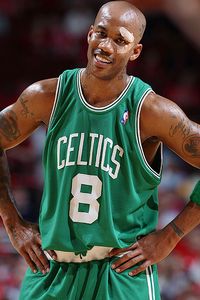 And there he was, abandoned by Derrick Rose as his team -- the best he has ever played on -- ignored his talents to send the ball to the post. To ... Kendrick Perkins (a player prized mainly for things like rebounding and setting picks). Who was double teamed. And missed.
Four years ago, who would have ever imagined a defender leaving Stephon Marbury to double Kendrick Perkins.
Four years ago, who would have ever imagined Stephon Marbury raising his hands just a little -- hey, I'm here! -- but otherwise jogging back on defense and appearing to be totally fine with that.
Marbury (and no, I don't think we can call him Starbury right now -- maybe later) is blatantly trying hard to do the thing they said he would never be able to do: To fit in. To follow the system. To play a role.
He is playing the zestiest defense of his career. He's frustrating opponents with his strength, and jujitsu movement, on both ends. But just about every time he uses all that conditioning and wile to create some space, or an opportunity to score, he ... passes. Sometimes even when it doesn't make sense. Even when shooters aren't in rhythm. Even when the recipient isn't in scoring position.
He's learning something new. It's hard to learn anything new when you're past 30, I find. I can't imagine how tough it is after a lifetime of being taught the world revolves around you. Without for one second forgiving anything Marbury has ever done, I am pulling for him to master a team-centric second act in the NBA.
Enter Fabricio
A few minutes later, a thousand miles south, the Mavericks were whooping it up on the Spurs, and Gregg Popovich did something I kind of liked: His starters had played a little more than four minutes of the third quarter, and had given up ten more points to the Mavericks. So he sat them all down, which achieved several things:
It protected the starters, who can use all the rest they can get.

It gave the Spurs' second unit a chance to build some confidence. If George Hill, Jacque Vaughn, Bruce Bowen or somebody can come into a period of great play, it could be series-changing.

It made the Mavericks just a little nervous that one of those super-physical Spur bench players might injure a key Maverick.

It weirded things up, on a night when being straightforward clearly was not working for San Antonio.

It cheapened, ever so slightly, the Mavericks' likely win.
So, enter the subs.
And then, a minute later, seemingly as an after-thought, enter Fabricio Oberto, from the deepest end of the bench.
This is an adjustment. In 2005, he was the oldest rookie in NBA history, at 31. In 2007, he was a starting big man on a team that destroyed the Cavaliers in the NBA Finals. He has been a star on teams that have won the Argentine League, the Spanish League, the Copa del Rey, the ULEB cup and of course Olympic gold. Earlier this season an irregular heartbeat sidelined him for a time.
And in quick succession he has gone from champion starter throughout most of his career, to deep benchwarmer on a team that is trailing the the sixth place team in the West.
If he bumps into Stephon Marbury, I imagine the two would have a fair amount to talk about.
(Photo by Gary Dineen/NBAE via Getty Images)