History finally catches up with the Pistons, in unceremonious fashion. The Spurs need help from their supporting cast to avoid a similar fate. Meanwhile, the Celtics-Bulls series is shaping up as a postseason classic -- and the Hawks as a postseason bust.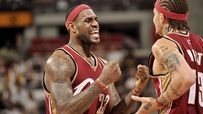 John Krolik of Cavs the Blog: "This game felt more like an execution than a coronation; there's a strange lack of pleasure in taking this team that was once a juggernaut, that handed LeBron [James] his first playoff loss and bore witness to his greatest triumph (so far.) Ben Wallace was wearing our colors. Chauncey [Billups] is on fire a thousand miles away. The once-raucous Detroit crowd was chanting 'M-V-P' for LeBron instead of 'DEE-TROIT BASKET-BALL,' the tale of how the Pistons leading the league in attendance but having to send e-mails to Cavalier season ticket holders to fill their seats for the playoffs, a stark reminder of how Detroit's infastructure has crumbled around it while Allen Iverson and his $13 million dollars can't be bothered to be in the building. Those facts, tossed off in the third quarter, stirred up more emotions than anything happening on the court."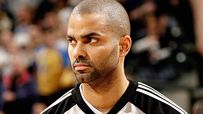 Matt Moore of Hardwood Paroxysm: "[Tony] Parker's been brilliant. But as we've seen, the Mavs are essentially running Kobe rules on Parker. Throw different looks at him, let him get his, and shut down the rest of the squad. If the usage rates were more evenly distributed, you could at least make the case that the rest of the Spurs are trying, they're just not falling. However, the Spurs got to where they are by playing a team game ... I'm not trying to make the argument that Spurs need to have Parker score fewer points. Because that would be like saying I should dig my way out of a hole by throwing my shovel out of the hole. But what's happening is the Spurs aren't forcing the issue with their other components, the Mavs are playing better defense ... and the Spurs are turning to their two superstars to bail them out. If the Spurs want to get back in this series, they need to force the issue with the rest of their roster. Unfortunately ... it doesn't look like the talent is there for them to produce like that. Maybe believing in a team concept is only effective if you have productive members of the complete effort."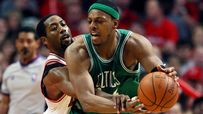 Zach Lowe of Celtics Hub: "In this epic, ulcer-inducing 121-118 Bulls win, there were so many key moments in the last 30 seconds of regulation and the two overtimes that it's almost impossible to even remember what came before, let alone isolate a key moment from the first 46 minutes of the game. Just think, in the last 30 seconds of regulation and the two OTs, we had: Not just one, but both teams electing not to foul when nursing a three-point lead with fewer than 12 seconds to go ... three really great free shooters missed free throws in a 17-second span of the first overtime ... two separate misses on lay-ups by Glen Davis ... Doc [Rivers]' decision to bring Tony Allen off the bench cold to defend Ben Gordon with the game tied at 93-93 ... and at least three Pantheon Clutch Shots."
THE FINAL WORD
Piston Powered: Now that that's over...
Hoopinion: Mike Woodson's curious substitution patterns.
The Two Man Game: The evolution of Dirk Nowitzki.
(Photos by Allen Einstein, Ron Hoskins, Jonathan Daniel/NBAE via Getty Images)