We're deep into the first round series -- let the advanced game of adjustments begin. Carmelo has finally arrived, while the Hawks bounced back from oblivion. And what do the Washington Wizards and Thora Birch have in common?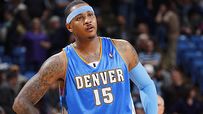 Jeremy Wagner of Roundball Mining Company: "If this is the new and improved playoff model of Carmelo Anthony, may the postseason never end ... If I could wrap up the difference in Melo over the previous three games it is that he is not only getting himself easy shots, but he is using his talent to consistently get his teammates easy shots. Melo has totaled 21 assists in the last three games and he has tied or surpassed his previous playoff career high of five assists for three straight games. Melo has also raised his defensive game to the highest level I have seen on a consistent basis at any point in his career. Melo clearly is taking his assignment of covering Peja Stojakovic seriously. He finished the game with only six rebounds, but most of them were ones he earned going up very strong in traffic. Carmelo is a dangerous weapon right now for a dangerous team and I cannot wait to see what he will do next."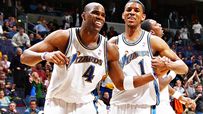 Wizznutzz: "It was the 2008-09 Wizards that had daddy issues. and im not talking about Pamela McGee buying Bud Ice at tenley mini mart for nick young. LIke we said before this years team was a RUMP STATE - its a very real thing google it. They had no authorities in charge and it was left to them to raise themselves like Dickens orphans. they were a party of five, a pack of wolves, a tribo-juvelist cooperative (I made up those words). Yes they had a Dad but their dad was like Dirk Benedict (i did not make up those words) in the movie ALASKA who crashed the family plane into the mountains and the young kids were faced with a harrowing adventure to race against time and nature to save him. They had to think fast and grow up and come up with a plan and work together to cross the wild and while they were doing all that Mike James slipped back into the plane wreckage and stole dad's wallet."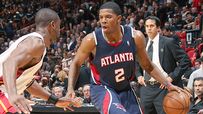 Bret LaGree of Hoopinion: "Through four games, the Hawks have won the fastest and slowest paced games. They've also won the two least efficient offensive games which have both been characterized by poor field goal shooting and lots of turnovers. As much talk as there's been since Game 1 about Miami keeping the Hawks out of transition, both teams are so comfortable taking their time to set up their primary offensive option that if that option is taken away there's little time to find a quality second option within a possession barring an offensive rebound. Factor in the deference to Dwyane Wade and, to a lesser extent, Joe Johnson demonstrated by their teammates and the sharp contrast between good and bad offense we've seen through four games becomes more understandable..."
THE FINAL WORD
Celtics Hub: The age old question -- when are moral victories enough?
Forum Blue & Gold: Sizing up the Lakers' potential second round opponents.
Philadunkia: The chess game inside the Orlando-Philly series.
(Photos by Rocky Widner, Ned Dishman, Victor Baldizon/NBAE via Getty Images)