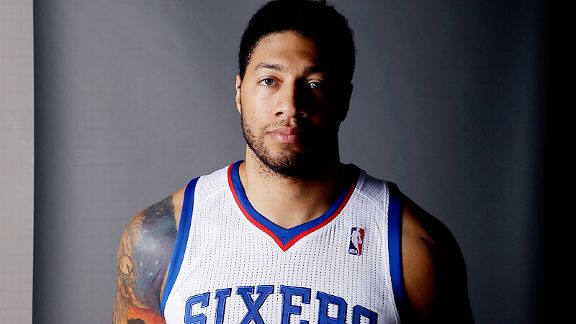 AP Photo/Matt Slocum
One of the stranger attempts to make the NBA continues in Philadelphia.
Royce White's rookie season could have scarcely gone worse. Drafted in the first-round by the Rockets a year ago, he failed to appear in a single game while wrestling with anxiety and obsessive compulsive disorders, all the while tussling with the team over his care. (The most famous of White's concerns: He prefers not to fly. The most underrated: His O.C.D. makes him crave concrete plans for everything from meals to travel times.)
The Rockets traded White's rights to the Sixers over the offseason. The Sixers risked little in the transaction; Their primary target in the deal was Turkish prospect Furkan Aldemir, and they convinced the Rockets to pay White's nearly $2 million salary for this season. Meanwhile, White's NBA career remains in limbo. It's almost impossible to find anybody who'll predict he'll succeed, and owing to conditioning issues some question when he'll even play.
White says "the player that I am will speak for itself when it's time, until then it's just watch and see I guess, even for me. I don't know what it's going to be like to go out there and play Game 1. I'm just going to play Game 1 and see."
White, projected as an NBA forward, also says his preferred position is point guard, which he played toward the end of his college tenure. He says he loves it because "it lets me connect with the guys early in the game in the way that I want to. But I like anything. In high school I played, like, center."
The team and the player have yet to resolve many of the issues that dogged his rookie season, although White does say he plans to be with the team for its long flight to Europe on Thursday, which is seen as a good sign. On top of that, the Sixers are talking about building a culture of work, where -- for instance -- everybody shows up in shape. It's hard to find any real optimism about his career -- the Sixers have a month to decide if they'll pick up their option to extend his contract beyond this season. Meanwhile, White has been frank that he did not work out much this offseason, other than the last two weeks that he spent with the Sixers' coaching staff.
How then could it be that White, of all people, was the life of the party at Sixers' media day? Beaming, greeting friends, and talking optimistically about the future? He explains in a media day question-and-answer:
What have you been doing?
Working. ... Just doing everything possible to get myself back to ground zero, really.
Brett Brown comes from the Spurs. They're a standout program in various ways. What is different about how they do things, if anything?
I think Coach Brown's a really unique coach. It kind of feels like when I played for another coach who was doing this for his first time in [Iowa State head coach Fred] Hoiberg. It feels like that first time. Building that culture. And I'll hopefully be able to let him know that I'm loyal to him. He's a great guy.
What does Coach Brown tell you?
Just the opportunity I have, obviously, from what I went through last year. Just how complex it was. It was a situation that, obviously, could have had me out of the league permanently. Whether that'd be right or wrong, I'll not say, but it definitely was that type of situation.
And I have another opportunity. We'll see what happens with this one. I'm excited about it, and he's excited to help me kind of make the most of it.
What does he envision for you basketball-wise? Do you know yet?
I really don't, to be honest. He talked some about me being able to be a guy who can push the break. That's something I was able to do in college really well. And I think that's something that translates to this level. But he also talked about my fitness a lot, and being in great shape, and obviously sitting out so much last year it's tough. Getting back to a place where I was going into last year is something that's going to take a while. Hopefully it takes less time. The less the better. But at the end of the day, it's your body and you never know. You just gotta work every day.
When is it fair for us to expect good stuff from you on the court?
I hope Game 1. That's what I put out there. I want to put that out in the universe. Game 1 I want to be there and hopefully be able to put 260 pounds on LeBron.
"I hope" is a little different from "this is what I expect," though ...
Yeah. Well, I mean, it's hard, because of last year, to have expectations. Just working. Just working towards making the things that I hope come true.
Last year the issue was agreeing on a plan of care with the team. Is that resolved here?
Umm ... I think a lot of the things that happened in Houston were scratching back the top, the surface, of what are the elements of this industry. I think a lot of the work that we did automatically translated into here. We went all the way over the CBA, standard player contracts and everything. A lot of the work that we did in Houston translated over and it doesn't have to be such an intense conversation.
Are you going to be on a bus?
Don't know yet. Hopefully.
The difference between here and Houston is that a lot of places from Houston were seven or eight hours. Here you've got the three, four, six hours. Under eight hours, where I could take a Sprinter, and I could drive myself, I wouldn't drive myself, but I could take my own vehicle. It's a different situation.
Do you have a Sprinter?
No.
They're pretty cool, though.
They are so cool! I saw a couple of them when I was going through my situation in Houston, vetting out my options. I love 'em, and I love the road. So I'm excited. And the East Coast is so beautiful, too.