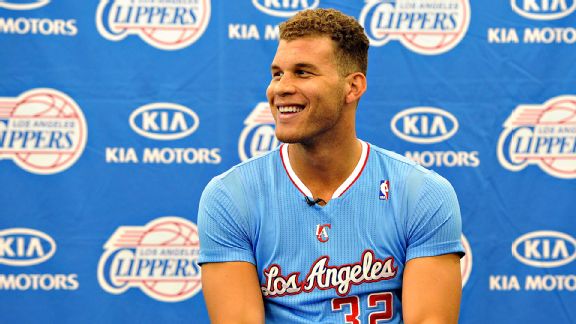 Jayne Kamin-Oncea/USA TODAY Sports
Why is this man smiling? The message from his Clippers coach sounds different than in past seasons.PLAYA VISTA, Calif. -- Every day is media day in Los Angeles. When celebrities and athletes who live out of town want to broaden their public appeal, they descend on the city and its landscape of sound stages, hideaways, beachside compounds and gleaming office towers where producers, publicists and image-makers broker meetings. The cyber-razzi want to be close to their prey, so they also call southern California home.
Until quite recently, the Los Angeles Clippers lived on the far outskirts of this world. Their long slog through the wilderness has been well-documented, and now, too, has their emergence as a legitimate NBA organization.
Nobody who thinks seriously about basketball in Los Angeles dwells any longer on whether the Clippers have reversed their history, or whether it's even possible the Clippers could ever be spoken of with the same affection as the Lakers. It's not that these questions have been answered, it's that posing them has gotten boring. As Clippers team president Andy Roeser is fond of saying in response to existential questions about the team, "We'll see."
In the meantime, the Clippers have developed into one of the league's more interesting teams. They feature two charismatic superstars, Chris Paul and Blake Griffin, each with a personalized storyline or two. They established a signature style of play -- the capacity to do that usually means a team is really good. And Los Angeles is the only big market that can decisively say the resident NBA team is the city's most popular. If the NFL's exodus did one thing, it was to solidify Los Angeles as the country's biggest basketball town.
No matter how big the swell of media interest, media day isn't the place where an NBA team can advance compelling storylines. The court at the Clippers' practice facility was literally covered by a layer of black porch turf. Not much actually happens at media day, but it's still the day when organizations, players and coaches lay out the campaign's talking points. The sound bites we hear just before training camp constitute the team's stump speech heading into fall, the familiar litany of themes to be visited and revisited over the course of the season.
Clippers coach Doc Rivers manages this messaging as well as any coach in the league, which is why it's so easy to imagine his succeeding in Los Angeles. The Clippers have made, if not a 180, then certainly a 150. Yet Rivers is the organization's first coach who could both communicate and project credibility to his players and the fan base. Some past coaches excelled at one task but struggled with the other, but Rivers brings the whole package.
At Clippers media day, Rivers was the first guest greeted on stage by the Clippers' bright radio broadcaster, Brian Sieman. Soon after the hire, Rivers quickly established a tendency to use "we" when speaking about past events from the Clippers' point of view, a pattern that was noticeable again on Monday.
"The areas where we struggled were huge. One is transition. With the athleticism we have, we should be a better transition defensive team," Rivers said on the podium. "And then guarding the 3-point line. We were 26th or 27th in the league in 3-point defense. And in a league that shoots 3s, we have to get better at that."
Mood and tone might be Rivers' strongest assets as team spokesman, but he's not careless with his words in the slightest. Rivers wants to convey that he's taking ownership not just of the future, but also of the past. When you coach the Celtics or Lakers, associating yourself with the mystique of an organization is easy, but with the Clippers, history isn't something people who work for the team want to be constantly reminded of.
The Clippers have had a peculiar relationship with the media over the past few seasons. They're a team that's thrilled fans with aerial exploits, but also repelled some of the NBA League Pass cognoscente with their moodiness.
The flash point of this tension has been Griffin, who was worshiped when he first dropped from the sky, made dunking fun again and quickly cultivated a sensibility that made him the league's best pitchman. On the court, Griffin produced as a high-usage scorer, efficient rebounder and elite passer. There's room for improvement mechanically and defensively, but Griffin contributed an enormous amount of offense to a team that's won nearly two-thirds of its regular-season games over the past two years.
It's almost impossible to believe a person who looks like Griffin and has enjoyed his on and off-court success could ever want for confidence. But Griffin is far from impenetrable -- maybe farther than many. He endured a backlash, along with the empty innuendo (the requisite rap of being soft or a fake tough guy). And by accounts from Griffin's teammates, he often served as a whipping boy last season when one was needed.
Ask Rivers about the twists and turns in Griffin's evolving persona in the public imagination and he probably couldn't tell you -- and if he could, he wouldn't. What Rivers clearly understands is that his power forward has the potential to be coached up enormously. Part of that project includes steeping Griffin in the dark arts of the Thibodeau-constructed defense. Encouraging Griffin's continued progress with shooting sensei Bob Thate is another piece. But above all of the component parts is something more vital, if less tangible: letting Blake Griffin know he's going to be a better basketball player two years from now than he is today.
"One guy that has stood out to me is Blake," Rivers told the audience at media day. "Just sitting in my office up there and looking down on him and watching him work. I knew he was a worker. I didn't know he was the worker to the extent that he's worked this summer. He's put in a lot of time. I've been impressed with his scheduling. He does a lot of stuff and nothing gets in the way of his basketball, and that shows me a great sign of maturity."
Lots of coaches say lots of nice things about lots of players on media day, but Rivers is doing something larger here -- he's bringing back the old Blake Griffin narrative, the one about the kid who conditions by running up sand dunes, treats his body like a temple and rides himself harder than anyone else could. Rivers, fascinated by Griffin's ability to move the ball, opened a dialogue with Griffin about how to utilize his skill set in the pinch post, where refined big men such as Pau Gasol and Kevin Garnett prospered as both scorers and facilitators.
When Rivers talks generally about the anatomy of the Clippers, the team he describes has two superstars. Paul doesn't require much reassurance about his role, but Griffin never really discovered his precise function in the offense under Vinny Del Negro. He got plenty of touches down on the box, but they weren't connected to any greater system of principles, or those principles were never communicated clearly.
Rivers might have been talking to the media on Monday, but the message was targeted at his 24-year-old power forward. That message? This is your team as much as it is anyone's, and we're going to help you claim it.