The Boston-Chicago series continues to achieve unprecedented levels of insanity. Ben Gordon has no conscience -- but that's part of the deal. And the Spurs went out with a whimper, playing an uncharacteristically passive brand of defense -- which was never part of the deal in San Antonio.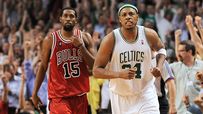 Zach Lowe of Celtics Hub: "In the last two minutes of regulation and overtime, Boston shot 8-of-10 from the floor, and Paul Pierce and Rajon Rondo combined to hit seven of those field goals, including an epic five straight from the Captain. They manufactured points when [Kendrick] Perkins was too tired to score, Ray Allen had fouled out, [Stephon] Marbury was afraid to shoot, Tony Allen was a non-factor and Glen Davis was forced out of the game by the Bulls small line-up. The last four Pierce baskets were jump shots, and the last three, including the game-winner with 3.6 seconds left, were simple pull-ups over John Salmons. I'm not sure where this ranks on the list of all-time clutch Pierce performances, but it's up there. Paul Pierce is gassed. We can all see it. Kevin Harlan called him slow. He took just six shots combined in the second and third quarters. John Salmons was beating Pierce off the dribble -- a guy with a bad groin was coasting around the man who helped hold Kobe Bryant to 40 percent shooting in the Finals last season. And yet Pierce found something inside of him to move a little quicker and jump a little higher when the Celtics needed him most."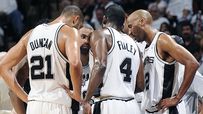 Graydon Gordian of 48 Minutes of Hell: "The Spurs were 3-16 from beyond the 3-point line and gave up 106 points ... Throughout the season I attempted to play the role of augur. Each 3-point shot that flew overhead painted a disturbing portrait of the offensive inconsistency to come. All I asked is that a single shooter rise to the occasion this evening. I guess that was too much to ask. But my disappointment in our outside shooting pales in comparison to the frustration I experienced as a result of our defensive effort. The Mavericks would have had a more difficult time shooting from outside had they been in an empty gym. In between the catch and release, their 3-point shooters had time for a quick nap. Failed rotations weren't seen as opportunities to reorganize and retaliate. Instead, we shot one another incredulous looks in the hopes of passing the buck. I've never thought of the Spurs as an elite offensive team, even during the championship runs. But our defensive struggles this series shook the spirit in a way to which I am unaccustomed."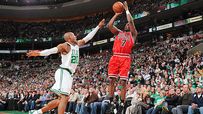 Matt McHale of By the Horns: "[Ben Gordon] gets full marks for logging a team-high 51 minutes on an injured hammy, but damn, that dude is a straight-up gun. A lot of times, an injured player will try to work himself into the offense. Not Gordon. He's more likely to grab the offense by the throat and try to wrestle it to the ground. Ben discharged eight shots in the first quarter, two of which hit the target. Hey, sometimes the only bad shot is the one you didn't take, right? I don't know why I'm complaining, though. That's the Air Gordon package. Complaining about his gunnery is like using a pack of wild, angry dogs to protect your home and then feeling guilty when they maul somebody."
THE FINAL WORD
Orlando Magic Daily: Rashard Lewis expands his game.
Two Man Game: A different kind of Mavericks team.
Daily Thunder: Exactly how big are OKC's "Big Three"?
(Photos by Brian Babineau, D. Clarke Evans/NBAE via Getty Images)