Sadly, the Celtics-Bulls series will end on Saturday night, while the Magic-Philly series was finally put out of its misery. Sleeper classic for Round Two? Try the Nuggets and Mavs.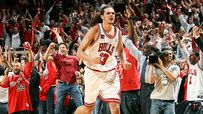 Matt McHale of By the Horns: "Think about it. And I mean think about it really hard. I can say with something like 100 percent certainty that you can't remember a closer, more competitive playoff series. In fact, by all objective measures, there hasn't been one. It now has featured a mind-scrambling SEVEN overtime sessions. And yes, that's easily a NBA playoff record. (Celtics-Hawks and Celtics-Nationals are second with four each…and they took place in 1957 and 1953, respectively.) In fact, it's more than any team in NBA history has ever played in an entire postseason. I'm going to have to track down the official numbers later, but there have been more than 100 lead changes and over 60 ties through six games, and I'm pretty sure that has to be a record too. Again, I'll try to research the final word on those stats. But man oh man oh man, this matchup has been nothing short of legen - WAIT FOR IT - dary! Let's just say that if NASA suddenly revealed that it's sending a space shuttle to Mars using a new kind of super-fuel made up entirely of the awesomeness produced by this series, I wouldn't be the least bit surprised. And Game 7 is on the way."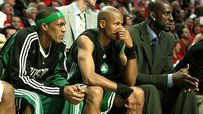 Zach Lowe of Celtics Hub: "I am beginning to feel about this series like a drug addict must feel when he's ready to enter serious rehab. It started out as innocent fun, we experienced some unthinkable highs, but now I'm coming down and I'm ready for it to be over. My friends and loved ones would like to see me at some point. For god's sake, the Houston-Portland game was in the third quarter by the time this game ended. I have to start blocking out four hours just to watch these games. Everyone says you should step back and appreciate history while it's happening. That worked through Game 5. I am no longer appreciating history. I just want the series to be over. And it was over. It felt over. I am still not sure what happened. I know it involved Brad Miller, and that Tony Allen was taking pressure shots for some reason. I may have dreamt that last part."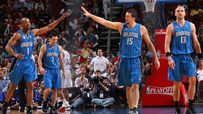 Zach McCann of Orlando Magic Daily: "Without the suspended Dwight Howard and the injured Courtney Lee, Marcin Gortat (11 points, 15 rebounds) and JJ Redick (15 points, 5-of-7 from deep) played beautifully and almost made Orlando forget about their franchise center and superb rookie. Gortat was the best big man on the floor, a significant step above [Sam] Dalembert, Theo Ratliff and Reggie Evans. Gortat played his role perfectly -- he consistently brought in rebounds, he kept the Sixers from scoring in the paint, and he put in several dunks and easy lay-ups. And Redick's solid fundamentals and sweet stroke were on display, including a 30-footer in the first quarter when the shot clock was winding down. He looked a lot more like Duke JJ than Magic JJ ... Overall, this game gives a decent look into the mind of human beings. It's a lot easier to perform without the pressure of expectations, and it's a lot more difficult to succeed when a lot is expected out of you. The Magic weren't worried that they should be winning, they were just playing. Having fun, running, shooting 3s -- that's when the Magic are at their best."
THE FINAL WORD
Roundball Mining Company: Stellar breakdown of the upcoming Nuggets-Mavericks series.
Hardwood Paroxysm: Atmosphere? Hustle? Upsets? College ball has nothing on BOS-CHI!
Forum Blue & Gold: How Andrew Bynum is like "Cedric Ceballos on a Jet Ski."
(Photos by Nathaniel S. Butler, Jonathan Daniel, Jesse D. Garrabrant/NBAE via Getty Images)