The Lakers push back ... literally. The Celtics bounce back against a Magic team with no answer for Rajon Rondo. Of all the transgressions that went down at Staples Center Wednesday night, none was more egregious than Von Wafer's. And what do Rasual Butler and Montgomery "Scottie" Scott have in common?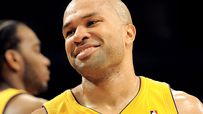 Kurt Helin of Forum Blue & Gold: "Let me start by discussing the topic de jour, Derek Fisher decleating Luis Scola. I loved it as a Lakers fan. This team has been blasted as being soft for a year now, and as recently as a couple days ago by an LA Times columnist. But anybody who watched this team this season saw the mentality was different- this team pushed back, they fought, they were tough. They learned the lessons seared into them in the ugly game six in Boston last year. There have been some hard fouls, some pushing back all season long. What Fisher did was a team leader saying 'Don't f$*%&$ with my teammates.' This is a team sticks up for each other and will push back. There are those that will call this overcompensation, others that at the next loss will pull out the soft card again, but frankly those are people who have not really seen how this team has changed. They are people who do not really have a grasp of this team."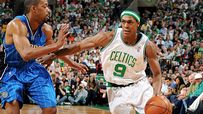 Zach McCann of Orlando Magic Daily: "If you're a Magic fan, and you're sweating bullets after Orlando's 18-point loss to the Celtics, let me ask you this. Did you really go into Game 2 with the expectation of a victory? Did you really think that Orlando -- a team that struggled to put away a .500 team in the first round of these same playoffs -- was going to walk into Boston and routinely take not one, but TWO games inside a sold-out Boston arena? ... The biggest worry is Rajon Rondo. We saw glimpses of dominance from Rondo in Game 1, and we got a large helping of it tonight. He was the best player on the floor, finishing with 15 points, 18 assists, and 11 rebounds, and the Magic have proven to have no answer for him. Despite the fact that [Rafer] Alston gives zero respect to Rondo's jumper, Rondo is still able to penetrate the lane at will. His court vision and ability to always get out of a predicament are up there with any veteran point guard in the NBA. He's amazing, and the Magic better find an answer quick."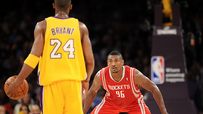 Brody Rollins of Rockets Buzz: "Last night Kobe Bryant was spectacular, but after the first thirty minutes of play the Lakers were no closer to victory despite a seemingly perfect performance. For all the criticism leveled against Bryant that he cannot win a championship without Shaquille O'Neal, he proved them wrong in the second half by distributing the ball just as effortlessly as he was draining shots over Shane Battier ... Perhaps no ejection was more deserving than the one Rockets head coach Rick Adelman leveled against Von Wafer early in the 4th quarter. For many, the Rockets playoff hopes evaporated when Tracy McGrady opted for season-ending surgery in February. Instead, what formed in his absence was a group of role players and hustlers defined by the team-first personalities of Artest and Battier. The facts behind his dismissal remain mysterious, but there is little doubt that Wafer's lack of effort on defense and propensity for playing a one-on-one game led to his confrontation with coach Adelman. In a series where the Rockets are clearly outmatched on a level of pure skill, there is no room for players who don't forfeit their egos at the door."
THE FINAL WORD
Celtics Hub: Baby v. Scal, a study in defensive contrasts.
Philadunkia: Trade proposal -- Andre Iguodala for Ben Gordon.
Hornets247: Trekkies take note -- The Hornets hop aboard the starship Enterprise.
(Photos by Harry How, Brian Babineau, Noah Graham/NBAE via Getty Images)