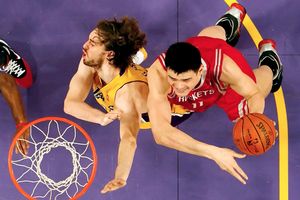 Yao Ming has been an offensive machine in these playoffs. In eight games against all manner of nasty defense -- he's always the focal point and hardly fast breaks, and so gets few easy buckets -- he's shooting 57% from the field and 93% from the line.
When he catches it near the hoop, the likelihood of Rocket points of one kind or another -- some Rocket will get a good look and/or a foul -- is astronomically high.
So, how is it possible that in Game 2 he only took four shots -- two of which were putbacks? Isn't the mission to get Yao the ball? How hard can that be?
Video blogger Gian Casimiro, of Seven Seconds or Mess, has done a little work to find answers. And he found some clear examples moments Yao had position to die for, but his teammates like Aaron Brooks, Ron Artest or Shane Battier simply didn't make the pass.

In his Game 3 scouting report, David Thorpe has more ideas about how the Rockets can use Yao Ming more effectively.
The Lakers defended Yao much better in Game 2, fronting him more in the low post and sending Lamar Odom into the ball-side box near Yao whenever the ball handler crossed below the free throw line (which is normally where they'll feed Yao). It effectively bottled up Yao. Houston can try passing down to Yao from above the line, before Odom comes over, if Yao can keep Gasol behind him. If not, Houston could put Luis Scola in more threatening spots on the weak side, hoping to keep Odom closer to home. Or they can pop Yao out to run side pick-and-pops, possibly opening up driving lanes for Brooks.
(Photo by Harry How, Getty Images Sport)