LeBron James continues to flout the fundamental laws of basketball and physics. The Phoenix Suns are at a crossroads. And is there any reason to believe that a sport that's seen performance enhancement in recent years hasn't been susceptible to PEDs?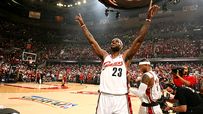 John Krolik of Cavs the Blog: "I played Jayvee high school basketball for all of two years. On day one of tryouts, we learned that you can't feed the post from the top of the key. Unless you're LeBron James, who not only managed to break one of the basic rules of Xs and Os, but did it with a BACKHANDED WRIST PASS to hit [Anderson] Varejao under the basket, whizzing the ball by five defenders' ears from 25 feet away on a frozen rope ... one of the things that makes LeBron such an amazing passer is that ... his height and strength allows him to actually make the ball go faster and through different angles that all the court vision and anticipation in the world wouldn't allow him to do normally. "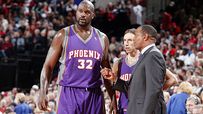 Michael Schwartz of Valley of the Suns: "This summer we'll hear cries of 'trade Shaq!' and 'Amare is a headcase!' Here's my question: why do anything? ... The fact remains, this was not a bad team. It certainly wasn't very good either, at least for half the year. They finished two games out of the playoffs without Amare for nearly half a season. Tell me that's not a positive to take out of the season ... Let [Alvin] Gentry use Amare to his fullest and keep Shaq as a contingency plan on every possession. Gentry plus Amare equaled two monstrous victories, don't forget that, no matter who they played. Worst-case scenario is that it doesn't work out, and they lose a year that they could have been rebuilding. But even if it doesn't, that's over $36 mil coming off the books in the form of Amare and Shaq, assuming Amare bolts after next year. That sounds like prime time to rebuild right there, all while doing it with less drama and staying competitive and relevant one more year."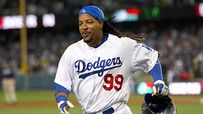 Dan Feldman of Piston Powered: "There was a time it was thought pitchers wouldn't benefit from steroids. They've tested positive as often, if not more than, hitters. There was a time it was thought just power hitters would benefit from steroids. Speed guys have tested positive, too. There was a time it was thought steroids would make a player's body deteriorate rapidly and almost immediately. Players have used steroids to help recovery from injury. We're in a time it's thought steroids weren't used in the NBA. How long until that becomes past tense, too?"
THE FINAL WORD
The Painted Area: Haubs goes through his 2007 emails to re-capture the thrill of GSW-DAL.
Hardwood Paroxysm: The "basketball equivalent of Lamar Odom and fava beans."
By the Horns: Finding more gems on eBay -- like Luke Schenscher's game-used shorts.
(Photos by Nathaniel S. Butler, Sam Forencich, Paul Spinelli/NBAE via Getty Images)