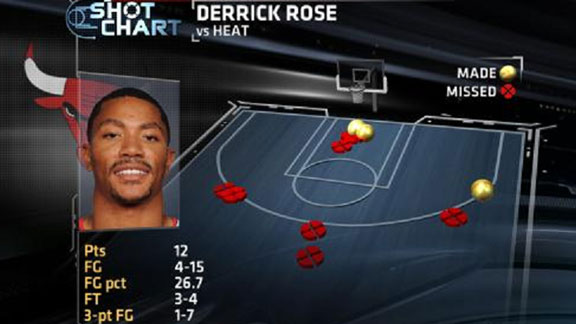 ESPN Stats & Information
Derrick Rose played in a regular-season game for the first time since April 25, 2012.There was no "championship hangover" for the Miami Heat in their opening game against the Chicago Bulls.
The Heat cruised to a 21-point halftime and held on for a 107-95 victory.
Dating back to last season, the Heat have won 38 of their last 40 regular-season games. The Heat and the 2006-07 Dallas Mavericks are the only teams in NBA history to win at least 38 games in a 40-game stretch (across seasons), according to the Elias Sports Bureau.
The return of Derrick Rose
Rose scored 12 points on 4-of-15 shooting (1-of-7 on 3-pointers) in his first regular-season game in more than 18 months.
Rose struggled against guards who defended him:
• Against Mario Chalmers, Rose shot 2-of-5 with four turnovers.
• Against Norris Cole, he missed each of his three field-goal attempts.
• With Dwyane Wade defending him, Rose was 0-for-1.
What did the Heat do well?
The Heat shot 6-of-8 on corner 3-pointers, their most makes in a game against the Bulls over the last four seasons (since LeBron James joined the Heat and Tom Thibodeau took over as Bulls head coach).
The Heat shooting well on corner 3-pointers isn't a surprise: Last season, they led the NBA in corner 3-pointers made and attempted.
But it is a surprise against the Bulls: Since Thibodeau took over, the Bulls have allowed the fewest makes and attempts on corner 3-pointers in the NBA.
Role players come up big for Heat
Heat by Lineup Combinations vs Bulls
The numbers show that the Heat's role players should be the ones credited with the win over the Bulls -- not the "Big 3."
James, Wade and Chris Bosh were outscored by four points in 25 minutes on the court together. But when at least one of them was on the bench, the Heat outscored the Bulls by 16.
With the "Big 3" on the court together, the Heat shot 2-of-7 on 3-pointers and were outrebounded by seven. But with at least one of them on the bench, the Heat shot 9-of-13 on 3-point attempts and had six more boards than the Bulls.