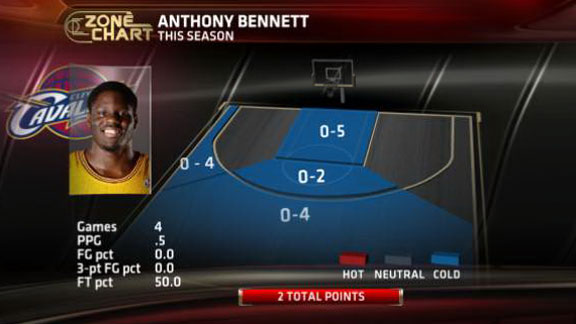 ESPN Stats & Information
Anthony Bennett has yet to make a field goal in his NBA careerThe top overall pick in the 2013 NBA draft has started his career on the wrong foot.
Anthony Bennett has scored just two points (two free throws) over the first four games of his career despite seeing 50 minutes of playing time.
According to the Elias Sports Bureau, that's the fewest points by a No. 1 overall pick through four games in the common draft era (since 1966).
Bennett has taken shots from various areas of the floor, but of his 15 misses, eight have come from the 3-point line.
The only other UNLV player to be drafted first overall was Larry Johnson by the Charlotte Hornets in 1991 (now the New Orleans Pelicans). In Johnson's first season in 1991-92 (in which he won Rookie of the Year), he recorded at least one field goal every game. Johnson played 707 games in his career and was held scoreless in only three.
Notable Cavaliers No. 1 overall picks
through first four career games
And when comparing Bennett to the Cavaliers' other recent first overall picks, LeBron James and Kyrie Irving, he doesn't stack up well, either. James has never had a 0-for-15 stretch in his career, and he's in his 11th NBA season.
Irving has just one 0-for-15 stretch in his career. It was from Feb. 13-20, 2013, when he missed exactly 15 straight field goal attempts.
The Elias Sports Bureau tells us the last player to start his career by missing each of his first 15 field goal attempts was Rolando Ferreira of the Portland Trail Blazers. Ferreira missed his first 17 to start the 1988-89 season.