Golden State Warriors guard Klay Thompson was at it again on Wednesday, making 11-of-21 shots, including 6-for-9 from 3-point range in a 106-93 win over the Minnesota Timberwolves.
He had 19 of his points in the fourth quarter, matching the most points he's had in any quarter in his career.
Thompson has had three great games and two average shooting games.
The sum of those numbers is pretty impressive: He's averaging 24 points on 58 percent shooting from the field and 56 percent shooting from 3-point range.
Only two other Warriors players have hit all three of those benchmarks in the first five games of the season -- Sleepy Floyd in the 1985-86 season and Mitch Richmond in the 1990-91 season.
Richmond had three 3-pointers. Floyd had nine. Thompson has 19.
Thompson is 13-for-20 from in the paint, 12-for-22 on his mid-range shots and 19-for-34 on his 3-point attempts.
What's most impressive has been his ability to score from all over the floor.
You can see that in the shooting charts from Thompson's three top games this season.
Opening night vs. Lakers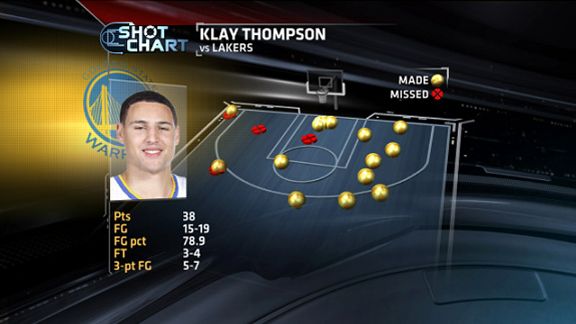 November 2 vs. Kings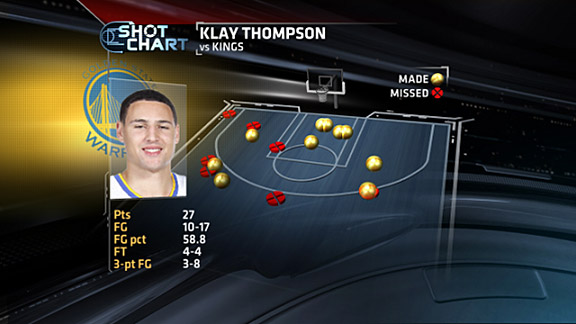 Wednesday vs. Timberwolves