Dwight Howard wants the ball against the Celtics' interior D, you say? Let's see what he can do. Carmelo Anthony always wants the ball, and he's making music this postseason. And Tim Duncan is still thriving in a younger, faster NBA.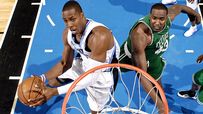 Brendan Jackson of Celtics Hub: "Dwight Howard says he wants to ball with the game on the line and I say give it to him. Without trying to wake a sleeping giant, I don't think Howard can be counted on when the game isn't on the line, let alone in the waning minutes trying to keep a lead or stage a comeback. Kendrick Perkins has played stellar defense on Howard this series en route to making his defensive prowess nationally known. Celtics fans knew Perk was a big body that could chest people up and block shots, but now the country is well aware of his ability should he stay out of foul trouble. Howard also lacks actual post moves, does not shoot well from the line, does not pass out of double-teams well, and the bank shot experiment has not gone the way of Tim Duncan. Despite all these short-comings, Howard is correct in saying he is a dominant player. Just dominant defensively and athletically. If the Celtics make him prove that he can beat us with Perk staying out of foul trouble, than this maybe the moment he ascends into offensive dominance and adds that to his resume. Personally, I just don't see that happening."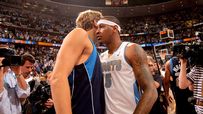 Rob Mahoney of Two Man Game: "The Mavs' season ended not with a bang nor a whimper, but with the sigh of a team that just didn't have enough. The Nuggets were the better basketball team, and they played like it. That's why, for the first time in a long while, I rested easy after the Mavs bowed out of the postseason. There was no implosion and there was no letdown. Although we Mavs fans were holding onto the hope of another Western Conference Finals, they should be able to find solace in the way these Mavs fought and the way that Dirk [Nowitzki] thrived. All the credit in the world has to go to the Denver Nuggets. The Mavs were a good basketball team playing their best basketball at the right time, but the Nuggets are a superior basketball team playing even better basketball with more two-way consistency. Personally, I'm ecstatic every time I get to watch the player that Carmelo Anthony is morphing into. Something about his game was both equally troubling and appealing, and to see him do away with the silly turnovers and the forced shots is to see him morph into an incredible basketball player. He showed every bit of that transformation in this series."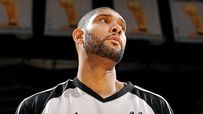 Timothy Varner of 48 Minutes of Hell: "Tim Duncan's second straight appearance on the 2nd team is, I think, more a matter of the league getting better and not necessarily a comment on decline. It's hard to argue against Nowitzki, [LeBron] James, and Howard. Duncan will continue to have tough competition, something that makes his appearances on these lists all the more remarkable. Tim Duncan has crossed the border into the land of sports cliche–he has nothing left to prove. Still, as a fan, I'd like to see him come back next season and do something fresh. Another championship is always in view. And he's never won Defensive Player of the Year, which doesn't seem right to me. Maybe there is still time left for him to make that right."
THE FINAL WORD
Rockets Buzz: Less dribbling, please. We prefer those nifty reversals.
Philadunkia: Meet the candidates. Leading off, Eddie Jordan.
Hardwood Paroxysm: Fun with numbers and Jon Nichols.
(Photos by Fernando Medina, Doug Pensinger, Garrett Ellwood/NBAE via Getty Images)