Luis Scola has been doing this whole power forward thing for a long time. When it comes to measuring LeBron James' career, maybe 'breaking out' isn't an operative term. And can Dwight Howard be an elite post player with only an average post game?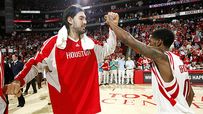 Kurt Helin of Forum Blue & Gold: "What was disappointing and frustrating about the game six loss is that the Lakers had their chances. This never felt like game four, in the first half the Lakers simply were not hitting their shots (and not working to get them from good spots on the floor), they were not creating the turnovers that have fueled them all series ... Meanwhile the Rockets made plays. Credit to them. But that is one that just feels like the Lakers could have had ... One thing I keep reading variations of in Lakersland is '[Pau] Gasol/[Lamar] Odom are making [Luis] Scola look good.' No, Scola is good. Very good. He has a gold medal with Argentina as a key player. He was one of the best players in Europe before coming here. He is savvy on the court and is one of those guys who knows how to get his shot off in traffic. He is dogged on rebounds. He demands extra attention, it's just on a team with Yao he often gets overlooked. He shouldn't. And he doesn't need the Lakers to make him look good."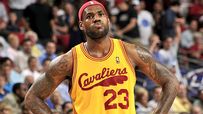 John Krolik of Cavs the Blog: "[LeBron James] broke out when he posted 26/5/9 in his first NBA game as an 18-year old, and went on to win Rookie of The Year. He broke out when he upped his averages by 7 points and 2 rebounds and assists in his sophomore year while raising his FG% by 5 and his 3PT% by 6, and SI proclaimed him the best 19 year old ever. He broke out again when he upped his scoring average by another 4 points, averaged 31.4 points per game as a 21 year old, and won an amazing series with two game-winners and a game-winning hockey assist, then took a vastly superior Pistons team to seven games. Then he beat the Pistons with one of the great performances in playoff teams and took a rag-tag team to the NBA finals. Then he upped his regular season averages across the board again, posted his career-high (to that point) PER, and took the eventual champions to the final minutes of a game 7. But it turns out ... that LeBron really broke out when he improved his free throw shooting and defense and got a supporting crew capable of running an actual offense and spreading the floor. Just because LeBron got better doesn't mean he wasn't already amazing or even the best player in basketball before, and we shouldn't discount previous achievements to try and build up what the guy is doing now."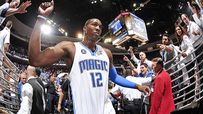 Zach McCann of Orlando Magic Daily: "[Dwight] Howard in the post is an offensive weapon that is always there in the half-court game. When the offense is struggling, a throw into Howard for a quick jump hook isn't the worst thing in the world. The key is for Howard not to force anything. When he hasn't gotten the ball in a while, it seems like he pushes to get a shot, even if it's not there. We've seen it happen a couple times on ugly hook shots that were either blocked by Perkins or missed the rim all-together. Part of this problem can be solved by making Howard feel like he's part of the offense -- and part of the problem is that Howard's post-moves are still pretty average."
THE FINAL WORD
48 Minutes of Hell: Should the Spurs entertain offers for Manu Ginobili?
Piston Powered: Who do you want taking shots?
By the Horns: Take away Matt McHale's eBay account before someone gets hurt.
(Photos by Bill Baptist, Fernando Medina/NBAE via Getty Images)