Forget about Kobe -- the Nuggets have their hands full with the Lakers' seven-footers. Orlando needed to learn how to win -- it took them all of 72 hours. And Rick Sund deserves an "Atta Boy," in Atlanta.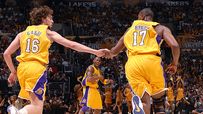 Jeremy Wagner of Roundball Mining Company: "You can talk about Kobe Bryant all you want, the Nuggets biggest concern should be how they can handle [Andrew] Bynum and [Pau] Gasol. With the starters on the floor Kenyon Martin is going to have to guard one of them and he has a serious length disadvantage against both. Most likely Kenyon will be guarding Gasol and for all his defensive desire and talents he is in a big hole ... Pau can shoot his 15-18 foot set shot over Kenyon at will and when he goes into the post his jump hook will be impossible for Kenyon to stop. Nene is relatively better equipped to cover Bynum than Kenyon is for guarding Gasol, but Bynum still has a significant length and weight advantage over Nene. On the other hand, Nene has done a decent job against Gasol in the past so will Denver choose to stick Kenyon on Bynum and double the heck out of him should he get the ball in the post thus creating one major mismatch instead of two less than desirable matchups?"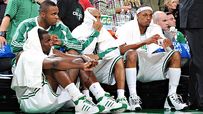 Zach Lowe of Celtics Hub: "This Celtics team could not play championship-caliber defense consistently. Their defensive numbers slipped a bit against Chicago, a mediocre offensive team, and it was likely, if not inevitable, that Orlando was going to score on Boston at least once or twice in this series. And the Celtics could not rely on their offense and their three-point shooting to carry them, as they did against the Bulls. Orlando's defense was the best in the NBA this season by some metrics. The tendency will be to look for what the Celtics did wrong -- to ask why Doc Rivers waited so long to try a small lineup, to wonder why Ray Allen shot so poorly until Game 7, to ask why the Celtics defenders had so much trouble guarding Mickael Pietrus tonight, why Eddie House couldn't get free, and on and on and on. The reality is that Orlando is a very good basketball team that presents major match-up problems for Boston sans [Kevin] Garnett."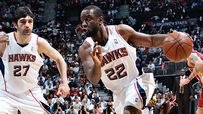 Bret LaGree of Hoopinion: "Considering both the ownership situation and his brief tenure I'm going to give Rick Sund the benefit of the doubt for the time being. I don't believe that's simply a matter of being fair. By signing Flip Murray and Maurice Evans for a combined $4 million he earned the benefit of the doubt. The veteran pair combined to ably back up three positions while helping to accelerate the team's transformation, one which started following last season's trade for Mike Bibby, from an offense incapable of making three-point shots into a more diverse and dangerous team to guard."
THE FINAL WORD
Cavs the Blog: John Krolik revisits the Cavs-Magic regular season matchups.
Orlando Magic Daily: Much respect for Mr. Paul Pierce.
Daily Thunder: Thabo Sefolosha -- the next Shane Battier?
(Photos by Noah Graham, Brian Babineau, Scott Cunningham/NBAE via Getty Images)