What did we take away from Game 1 of the Western Conference finals? Is Joe Johnson really a first option? Who will draw the LeBron assignment for Orlando? And if you're in need of a point guard, maybe the 2009 NBA Draft isn't such a dog?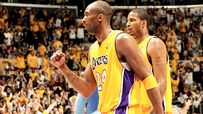 Kurt Helin of Forum Blue & Gold: "You had to like that win. It was a gutty win when the Lakers were outplayed most of the night. When they were out shot. You had to love that after a night where they struggled Pau Gasol and Derek Fisher made the plays at the end. You have to love Kobe Bryant. The Lakers were tough - as they have been for a while but still don't get credit for. Sure, there were a lot of things I didn't like. I didn't like that when the Nuggets were aggressive with cutting off easy post entry passes the Lakers didn't counter (late moves across the lane, cross picks). I didn't like that early when Gasol and Bynum did run the floor and get early position they were not rewarded with the ball. I did not like Spike Lee cheering on the Lakers. I did not like how much the Lakers ran the pick and roll instead of their standard offensive sets. But it's a win ... It will be interesting to see how this Denver team responds. Some teams will lost a game they feel they should have won and just pack it in the next game until they get back home. Others will think this validates they can win, just with some smarter plays. I know how Billups will respond, but will his teammates follow? Because the Lakers certainly can play better."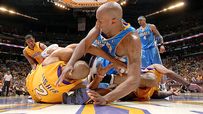 Jeremy Wagner of Roundball Mining Company: "Either Denver proved that they can hang with the Lakers and good things are ahead or the Nuggets proved that even when Carmelo [Anthony] plays what may have been the best game of his career and Denver outplays the Lakers for a vast majority of the game they still cannot win in Los Angeles. There is some pretty good evidence to support both sides of the argument. In the Nuggets' favor if there was any question that Denver was going to be a match for Los Angeles, the debate is over. Denver is playing at a much higher level than they did at any time during the regular season. There were a couple of points in the game where the regular season version of the Nuggets would have fallen apart and been knocked out early. On the other hand, this game set up perfectly for Denver. They got out to a quick lead to build their confidence. Andrew Bynum was in foul trouble for most of the night. Carmelo played an absolutely incredible game and they had a lead late in the proceedings. It is difficult to imagine Denver having as good of a chance to win in Los Angeles as they did tonight."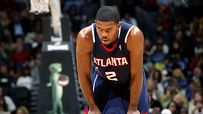 Bret LaGree of Hoopinion: "Contrary to popular belief, Joe Johnson didn't come to Atlanta for the money. The Phoenix Suns would have paid handsomely to retain his services. Joe Johnson came to Atlanta for the shots and he has no interest in giving those shots up to the younger players who will need to take on greater responsibility if the Hawks are going to make any progress toward contending for the Eastern Conference title ... Over the course of his four seasons in Atlanta, Johnson has increased his reliance on shooting the three-pointer as his ability to make two-point baskets has slipped significantly. Considering Johnson's inability to get to the free throw line (Despite making 82.6% of his foul shots last season his free throw rate was 10% below the league average.) the numbers confirm the eye's suspicion: Johnson ... is not a viable first option for an NBA team with ambition."
THE FINAL WORD
Orlando Magic Daily: Defending LeBron.
Hornets247: Sizing up the big men in New Orleans.
Raptors Republic: Some pretty solid point guards will be around at #9.
(Photos by Andrew D. Bernstein, Ned Dishman/NBAE via Getty Images)