Have the Cavs gone from invincibility to must-win crisis mode in a single day? Did the Magic catch lightning in a bottle, or was Wednesday night their definitive statement game? And the Celtics always manage to maintain a spot in the news cycle, even after they're eliminated.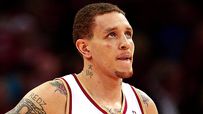 John Krolik of Cavs the Blog: "This one is bad. It's about as bad as a first game gets. We've lost some of our swagger at home. Game 2 almost becomes must-win. In close games, you either get it or you don't. We didn't tonight, and we've lost a 50-50 game. We now have to beat an elite team on the road, something we haven't shown we can do. We wasted an absolutely phenomenal performance from LeBron James. But you should be able to win on the road if you're a championship team, and some things will even out; you can't count on LeBron (or anybody) being that good for the rest of the series, but Mo [Williams] and Delonte [West] should get better and Rashard [Lewis] and Dwight [Howard] should lose some of their fire ... We lost. At home. In a close game. With LeBron rolling. But we're only down a game. And there's still a lot of series left. And my life is, if I can chill for a second and try and get out of my own head for a second, relatively the same as it would be if Delonte had made that shot. It sucks because this team especially, and LeBron, feels like we need validation, a championship on a macro level to bless the team and all its fans faith as worthy and a win tonight for LeBron's performance to be truly great. But the true fans know both things are true regardless, and…God, I just want to win on Friday and for it to happen right now."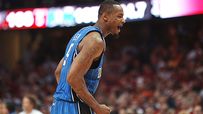 Zach McCann of Orlando Magic Daily: "This win wasn't about the Cavaliers not being tested, the crowd being taken out of it or LeBron James running out of gas. All those things are true, yes - but this game was all about the Magic proving they know how to win. Proving they have the mental fortitude, the team cohesion and the resiliency to win under any circumstance ... A week ago, when the Magic allowed the Celtics to rattle off a 13-0 run and steal Game 5 away from Orlando, did you ever think we'd be here? Did you think a team that suffered one of the worst collapses in NBA playoff history would mount an implausible comeback on the road, against the NBA's No. 1 team and No. 1 player, just eight days later? The Magic are legitimate NBA title contenders. That feels good to say. Magic fans have been saying it all season, but did you really believe it until now? Did you really think this team could play at the highest level on the biggest stage under the most pressure, and win? We knew the players had enough talent, yeah -- but was the team capable of it?"
THE FINAL WORD
Nets are Scorching: Video of Brook Lopez at something called the Sun God Festival.
Celtics Hub: Competing views of Doc Rivers' injury disclosures.
Roundball Mining Company: More smart insights on the Nuggets-Lakers series.
(Photos by Gregory Shamus, Elsa/NBAE via Getty Images)