ESPN's Shelley Smith, reporting from Los Angeles, where the Lakers and Nuggets will play Game 2 tonight. The Lakers lead 1-0:
In Game 7 against the Houston Rockets on Sunday, the Lakers' Bench Mob got plenty of garbage time -- and that's when the trouble returned.
Sasha Vujacic forced up a jumper that drew no iron but the ire of bench mates Shannon Brown and Jordan Farmar. Vujacic was peeved at them for not getting the ball to him on a couple of possessions when he thought he was open.
A dispute ensued and was quickly doused, but coach Phil Jackson was still addressing the issue three days later, even after the Lakers had gutted out a Game 1 win against Denver. For Jackson, it fit into a bigger issue that has consumed the group most of this season: Their hyper-competitiveness, which has led to testy, sometimes violent incidents between the reserves nearly every day.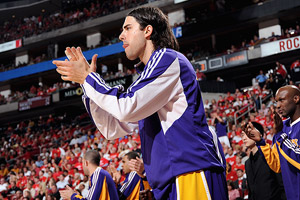 "Our practices get very competitive," said Luke Walton. "A lot of trash talking, an occasional fight, but all in good spirit and good competition. I love it. It's fun. It's been the same way since playing with my brothers since I was 10 years old. Off court we are very good friends, but once you step on the court, you're ready to punch somebody if it's going wrong."
Which explains the Sasha-Farmar flare-up on Sunday, and, really, the Sasha-anyone flare-ups that players say occur on any given day. Vujacic, his teammates also will tell you, is the most annoying player on the practice court. It's an adjective he wears with pride.
"You have to practice the way you play," he says, wiping the sweat into his free-flowing hair. "And, yes, sometimes it is good to be annoying."
It was that kind of heart and some big shots that helped the Lakers get into position to win on Tuesday night. Down by 13 in the first quarter, Jackson went to Vujacic off the bench and he responded with a huge 3-point shot, followed by equally big 3-pointers from Brown and Lamar Odom and Farmar (whose, ahem, confidence, his teammates say, might rate higher on the annoyance scale than Sasha's flailing arms and sweaty hair).
"Every one of those guys coming off the bench hit a 3-pointer," said Jackson. "OK, maybe Josh Powell didn't, but every one of those guys found each other in various places by penetration and kicks. [They were] instrumental in getting us back in the game."
They outscored the Nuggets 20-2 in that section of the game and, essentially, saved the night. What made it sweeter for the boys from L.A. was that their many prognosticators said the Nuggets' depth would be the deciding factor. Eventually, it might be, but Game 1 belonged to the Bench Mob.
"They're not [better than us]," Walton said of the Nuggets' bench. "They put up a lot of points and can do it really quick. But I think we have more of an organization type of attack. They get the green light to run, get shots up as quick as they can to try and bust open a game."
(Photo by Andrew D. Bernstein/NBAE via Getty Images)