Is there any momentum to the Lakers-Nuggets series? Can the Cavs return to the kind of offense that won them 66 regular season games? And what do the Pistons need with another point guard?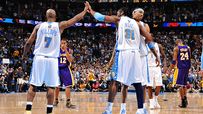 Jeremy Wagner of Roundball Mining Company: "I was afraid to write it before the game, but I thought this game was the most likely candidate for a blowout in the series. With Denver coming off a bad loss at home they would be out for blood, and in round two the Lakers followed up a big game three win in Houston with a real stinker of a game in game four that saw them fall behind by more than 30. Denver ended up winning by 19, but L.A. deserves a lot of credit for playing hard. They did not quite manage to match Denver's desire, but they certainly did not mail the game in by any stretch of the imagination. I think that fact is the ultimate compliment to Denver. Los Angeles clearly did not take the Rockets seriously enough to play all out every game. They clearly understand what can happen against Denver if they do not show up to play. For the first time in franchise history Denver has made it to game five of a conference final with more than a fighting chance to advance ... The Lakers will be coming out to reestablish size advantage and they will be the ones coming off a loss, but I think everyone who has been watching this series knows Denver is very capable of going into Los Angeles and claiming a series altering victory."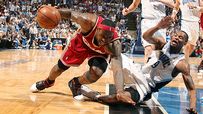 Matt Moore of Hardwood Paroxysm: "Cleveland has regressed back to their pre-2008 offense. Give the ball to LeBron, stand around and watch, occasionally miss a wide open shot if he's not in the game. The only new wrinkle is Mo Williams somehow running his mouth while shooting below 40% from the field. What's been shocking has been the degree to which they've had to rely on LeBron. This was never as apparent as in Game 2, where it took James hitting a nearly impossible shot with one second left at home to avoid going down 0-2 ... So yeah, that LeBron Guy is pretty good. But when your 1-2 are battling to a stand still with the other guys who aren't as talented, and the other team's 6-7-8 are getting way more than your guys? That's how you end up in a 2-1 hole, with only a miracle to your name. That's how you lose 8 of 12 quarters."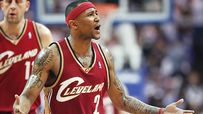 John Krolik of Cavs the Blog: "So the good news is that none of these problems are unsolveable. The bad news is that they're the kind of problems that come from playing on the road. Role players missing shots and losing confidence offensively, role players getting frustrated and making stupid plays defensively. There's a reason that 14 of this team's 15 (legitimate) losses in the regular season came on the road, and those are pretty much the reasons. But the Cavs already gave away a game at home, and nearly gave away two. So they need to break the status quo at least once in this series if they want to go to the finals. They've got a chance on Tuesday. Hopefully they can right the ship, but the fact is this team has been outplayed in all three games. All they really want is the split of these two, and they've got more than a decent chance. But the problem with giving away games is that acceptable losses like this one just aren't all that acceptable anymore."
THE FINAL WORD
Orlando Magic Daily: An in-depth look at LeBron James' shooting in the series.
Piston Powered: Another point guard?
Hoopinion: The Hawks have a big decision to make with Mike Bibby.
Ball in Europe: Wedding bells, Ćevapčići, and folk music for the NBA's Serbian elite.
(Photos by Noah Graham, Elsa, Nathaniel S. Butler/NBAE via Getty Images)