Late Friday night, while we were all watching LeBron James make history with an incredible three points in one second, professional basketball player and blogger Coleman Collins was at the tail end of a busy day enjoying life in Paris. He writes:
SECOND PERSON IS THE NEW FIRST
You are sitting in a tiny, non-descript hotel room, sniffling and looking at the directions on a pack of decongestants that you've brought with you from the States.
It says clearly, in semi-boldish type, "If you consume more than three alcoholic drinks a day, consult a physician before using." Do you drink three drinks a day? Well, normally not, not usually, but tonight you did. And tonight you were in Paris, and tomorrow you'll be in Paris, and history is likely to repeat itself.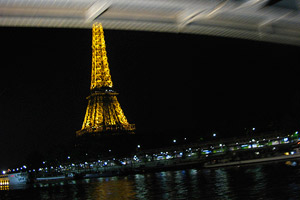 Tonight was a whirlwind.
You look in your pockets and see some strange-colored pieces of paper of varying sizes. On second glance, it's money. The problem with foreign currency, you've decided, is that it doesn't feel real when you spend it. It's Monopoly money. Tonight you may have put houses and hotels on Park Place and Boardwalk for all anyone knows. There's no passing GO, save for the ATMs around the corner. No Free Parking. Paris is expensive, but you've resolved to rein it in from here on out. Next time you'll do better.
Yesterday? You flew in from New York last night/this morning. Connecting flights. Detroit. On your first flight, Delta was apparently recouping fuel costs by running a part time day-care. On your row. There were children drooling all over the place, somersaulting down the aisles, slapping each other with seat belts. No one seemed to mind. You tried to sleep.
The second flight was worse. There was a guy sitting next to you that smelled like he'd slept in a giant gym sock. And it wasn't a violent smell, like a fart. A fart you could understand. It comes on strong, punches you in the face and then it fades into the crowd. Not this -- this was an underhanded, passive-aggressive smell. This smell was like a girlfriend moping around the house with a sad look on her face, looking absolutely heart-broken, moaning, groaning and begging for attention. You ask her "What's wrong?" She sighs, looks away and says: "Nothing." Forcing you to keep at it, attending to her until she's ready to stop acting. Never-ending. Annoying.
A passive-aggressive, tempermental stench, with no explanations and no reasons and no end. This for 9 hours.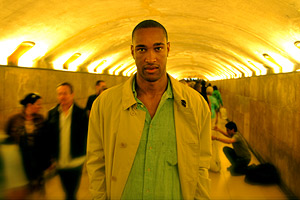 In Paris, you got off the plane and found your brother, your homeboy from high school and your way to your hotel. You'll be here for a while, ostensibly to celebrate your brother's master's degree (shout-out Columbia University Class of '09!) but really just to go. Because Why Not? The rooms weren't ready yet, so you went across the street and got some good food and some good wine. You tried out your French and find it improved. You've worked on it since the last time you were here. You ate and requested simple things in halting French (en peu plus d'eau, s'il vous plait?) and you felt good about yourself. The sun is shining.
You paid, and returned to the hotel, and your rooms were ready. And you slept. You slept away the flight on a pseudo-twin bed. You woke and showered and met up with some girls you'd met somewhere before. Then you traipsed through the streets, taking pictures left and right until you came across a boat that tours along the Seine. You hopped aboard. It was nice, but the breezes off of the river were too cold after a while. It was ten o'clock, and for some reason the sun was just then going down.
Then you grabbed some food and spent more Monopoly money (Reading Railroad this time) and you sat and basked in yourself. You're young and it's Paris and it's springtime, and that should have been enough, but it wasn't quite. Not yet. Always more around the corner. You moved to your favorite bar, Caf Charbon, and spent the night there. You drank at the bar and at the club next door and then spill into the street around 3 o'clock. It was pitch black but the lights were shining bright and the people's smiles were shining brighter. You picked up bits of French conversation. Were accosted by a random bum or two. Argued about German soccer. Everyone grabbed crepes with Nutella and bananas, and ate eat them hungrily, washing the night down with empty calories. The luxuries of the young and highly metabolic.
You head to back to the hotel. It's almost 4. You brush your teeth and make your usual preparations. A thought -- it's Friday. Ten o'clock in America -- ten in Cleveland. There are things going on: Important things. Your first love.
You frantically turn on the TV, but of course it's not on, and you fire up your laptop and go on ESPN. GAMECAST -- live stats. Acronyms melt together: MINFGFT3PTREBASTPFPTS. They refresh themselves, and refresh themselves, and numbers appear, moving your imagination as you sit there, a stranger in a strange land, staring intently at a glowing screen in a nondescript hotel room. And now, as your brain cues up the sounds and the sights that are missing from the box score, you wouldn't rather do anything else. When the last shot comes, you're shocked by how beautiful it was from so far away; from here, the worst seat in the house.
(Photos courtesy of Coleman Collins)