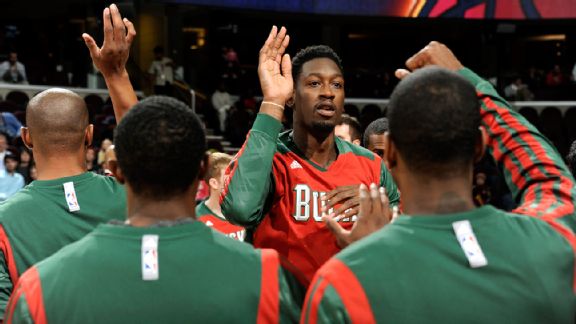 David Liam Kyle/NBAE/Getty Images
Absent Larry Sanders and several others to injury, the Bucks are winning the race to the bottom.Not more than 90 minutes before the Milwaukee Bucks' opener on Oct. 30 in New York, Luke Ridnour and the team's trainers decided he couldn't play. Despite receiving an epidural cortisone shot 10 days prior, the herniated disc in Ridnour's back had flared up again.
Playing without him was an inconvenience, but not debilitating. Brandon Knight had earned the starting gig at the 1 for Milwaukee, and the third-year point guard was raring to go. But 1 minute and 45 seconds into his Bucks debut, Knight strained his hamstring pushing the ball upcourt in transition. He promptly checked out of the game, and so began the career of Nate Wolters -- South Dakota State Jackrabbit and No. 38 overall pick in the 2013 draft -- under the bright lights of Madison Square Garden on opening night.
The injuries to the point guard corps were merely the newest installments in the Bucks' medical drama. Milwaukee signed Carlos Delfino this past offseason under the assumption that the bone fractured in his right foot during the playoffs would be healed for the start of the season. But in September Delfino suffered a setback in his recovery that moved his estimated return date back to around just before the new year. He'd need extensive bone repair therapy.
While Delfino was rehabbing, big man Ekpe Udoh had his knee scoped Oct. 10. He missed the start of the season and didn't return to the court until Nov. 6.
The Bucks received the worst news of all only three games into the season, when Sanders was lost after tearing a ligament in his right thumb at a Milwaukee club the night of Nov. 3. The pin that protects the ligament reconstruction was removed a week ago, and he's just been cleared for light basketball activity. The hope is that Sanders will return soon after Christmas.
Hours before Sanders found trouble, Ersan Ilyasova aggravated the nasty right ankle sprain he suffered during the preseason. Four days later, Ilyasova had joined Sanders, Knight, Ridnour and Delfino on the shelf (Udoh was just about to make his return). He'd miss six games for the Bucks, then return to play sporadically for the remainder of November. The results have been dispiriting: Statistically, Ilyasova is putting up the least impressive numbers of his six-year NBA career.
The hits kept coming for the Bucks: A week after the Sanders dust-up and Ilyasova, Delfino announced via his website Nov. 9 that he'd need another round of surgery, a procedure he underwent Saturday in Argentina. The team says Delfino will be out at least another eight weeks, but it's possible he won't suit up for Milwaukee this season.
Feel-good story Caron Butler didn't feel so good. On Nov. 15, he flew to Los Angeles to consult a specialist about his tweaked shoulder and missed consecutive blowout losses to Indiana and Oklahoma City. Two weeks later, Butler was sidelined again, this time with a swollen left knee. He isn't expected back in uniform for another week. Meanwhile, Gary Neal has missed a couple of games because of a foot injury and left Saturday's game against Dallas because of plantar fasciitis in his left foot.
There's more: Center Zaza Pachulia will be in a walking boot on his right foot for the foreseeable future after suffering a stress fracture a week ago. That leaves the Bucks with a frontcourt rotation of John Henson, Udoh, a hobbled Ilyasova and first-year import Miroslav Raduljica.
---
What does all this mean? Is it an unmitigated disaster or the perfect unintentional way to secure a top-five pick in a prolific draft?
That's a matter of interpretation.
If you're owner Herb Kohl, the 5-19 start is a travesty. The Milwaukee Bucks brand might not register nationally, but the team's annual pledge to put a competitive product on the floor for the community has been compromised.
One of the hallmarks of Milwaukee Bucks basketball has been the promise that if you buy a ticket on a cold winter night, there's a better than even chance you'll see a win for the good guys. The Bucks haven't had a losing home record at the dilapidated Bradley Center since the 2007-08 season, but they've treated the local folks to only two wins in 12 games there this season.
The litany of injuries is undeniable, as is the fact that the summer's projected starting lineup of Knight, O.J. Mayo, Butler, Ilyasova and Sanders hasn't played a second together. The team doesn't have a single five-man unit that's been on the floor for 100 minutes this season. You can boast about the potential of rookie Giannis Antetokounmpo and marvel at the length Larry Drew will be able to assemble on the floor once Sanders returns to play alongside Henson and Antetokounmpo.
Yet businessmen tend to be fixated on results -- and 5-19 is 5-19. City governments and those listening to proposals about the construction of new facilities in a depressed urban economy don't read draft reports or go to NBA salary sites for a rosy picture of the franchise's cost structure.
A project like the Milwaukee Bucks can't afford bad morale when it's up against all kinds of adverse conditions. Last summer, assistant general manager David Morway spoke about how losing, even with the disclaimer that losses can be teaching moments and part of the life cycle of a young team, can become habit, which is dangerous. It's not just players. Organizations who aren't winning and/or don't have a definable mission like the one Sam Hinkie has in Philly, can be infected off the court, too. There are a couple of examples on opposite sides of the East River.
But if you're a pragmatist or, possibly, a cynic, the organization might have lucked into something. Kohl's mandate to win as many games as possible is born out of noble intentions and menschkeit, but it costs you several draft slots each season and, often, a reasonable chance at a transcendent talent.
The Bucks have some promise on the roster. Sanders has the opportunity to grow into one of the five most valuable defensive players in the NBA. We need to see more of Antetokounmpo to make a legitimate estimate of his potential, but from the ground floor it looks like a vaulted ceiling. With the front-court depth depleted, the Bucks are asking a lot of Henson and he's delivering consistently. He doesn't currently have the stretch to be a logical counterpart to Sanders up front, but the learning curve is on a steep upward ascent.
No one in good conscience can say injuries are anything but bad -- they cause victims pain in the present and anxiety about the future. But unintended consequences can have benefits. Speaking of Henson, his smart, confident voice is growing louder in a locker room that needs some young guys who express a belief in what might be possible in Milwaukee. The Oklahoma City model is referenced a lot, but one thing that's commonly left off its list of characteristics is how the young Thunder core took ownership of the enterprise, even when they were losing a ton of basketball games.
There were questions coming into the season about how much action Antetokounmpo would see. The injuries to Delfino and periodic absence of Butler have wedged the door open a little bit more. People around the league have been surprised by what Khris Middleton has demonstrated in big minutes as a starting small forward.
But the Bucks need another big talent before this thing becomes real, and if current trends continue, they're in prime position to add one through the June draft. There's a good deal of irony at work, namely that a team that promised to make every attempt to be competitive is the Eastern Conference's least. Sometimes serendipity is better than brilliance.