Is it really as simple as "LeBron up top in isolation" for the Cavs? If so, how does Orlando adjust? Is "Carmelo up top in isolation" a blueprint for Denver? And if you're weary from playoff basketball, there's always the draft combine.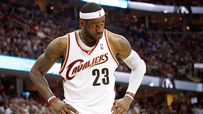 John Krolik of Cavs the Blog: "Where do you want to start? 37/14/12 against the best defense in the league? Are you joking me with that line? Is that real? Led the game in points, assists, rebounds, and offensive boards? Had as many assists AS THE MAGIC? (A note for those who think the Cavs were the team with stagnation problems in this game). Scored or assisted on 61% of the team's points. And the team scored 112 on the Magic. And with the team a quarter away from elimination ... the Cavs outscored the Magic by 14 with LeBron taking the ball at the top of the key and scoring or assisting on every Cavaliers basket. Step-back jumpers. Move after move to the basket. Ridiculous feeds. The whole thing. That's absolutely unheard of. In an elimination game, in the conference finals, against the league's best defense. That is absurd ... The TNT guys were absolutely in awe. When Kenny asked Charles Barkley, who's only one of the best scorers of all time and loved the ball from the free-throw line extended for face-up drives, if he'd ever been leaned on like that, Charles looked at Kenny like he'd just asked him where Ernie could score some PCP. They said 'eventually LeBron will get tired,' which to Magic fans must sound like someone telling Roy Schneider in Jaws 'Well, eventually we figure he'll get full.'"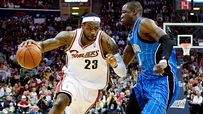 Zach McCann of Orlando Magic Daily: "Tonight's momentous performance from LeBron James once again made it clear: when LeBron is on, truly playing at the top of his game, it doesn't matter what Mickael Pietrus, Hedo Turkoglu, Dwight Howard or a variety of other help defenders do - James cannot be stopped. He can go over, under, around and through any defender that comes his way. The Magic can only keep their arms up, hope he misses and pray they don't hear a whistle ... LeBron was just in another world, fluidly penetrating the lane and seeing the play develop an instant before any defender did. A couple years ago, LeBron scored the final 25 points of Cleveland's Game 5 victory over the Detroit Pistons in the Eastern Conference Finals, saving the Cavs' season and eventually leading them to the NBA Finals. His performance tonight was of the same grain, as he took over and made sure the Cavs would head back to Orlando for Game 6."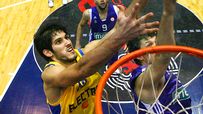 Graydon Gordian of 48 Minutes of Hell: "The Draft Combine media sessions can be a bit tedious. After the tenth player tells you he wants to 'work hard' and his 'defense needs improvement,' you can start to lose interest. So when the opportunity to entice a bit of intrigue out of a player arises, you take it. For me, that moment came while speaking with Omri Casspi ... Given that Omri may be the first Israeli to play in the NBA, I asked him about the Israeli-Palestinian situation and, as his popularity back home grew, whether he would take the chance to comment on the matter publicly. 'I'm playing basketball. I don't want to involve sports and politics.' Thinking he had nipped the question in the bud, I prepared to return to the day's standard subject matter. But before I could revert back to banalities, he took a slightly different tact. 'Israel is beautiful. People don't understand it. Many Jews and Arabs live together in peace. I want to be an ambassador for Israel.' As he spoke, he began to glance downward and his tone became more severe. I grew worried that I had hit a nerve. But as he neared the end of his comments, he seemed relaxed. I think I may have been imposing my own anxiety about the question itself onto him."
THE FINAL WORD
Roundball Mining Company: A video breakdown of Carmelo Anthony's Game 5 fourth quarter.
The Two Man Game: Dallas has some serious needs.
Valley of the Suns: Leandro Barbosa, Keeper.


(Photos by Gregory Shamus, Seffi Magriso/NBAE, Euroleague Basketball via Getty Images)