Game 2 of the NBA Finals. Orlando has the ball with six measly tenths of a second left, and after a timeout, they couldn't even get the ball inbounded.
Another timeout.
Orlando coach Stan Van Gundy uses his 20 seconds to change the play -- to one they had tried a few times in practice throughout the course of the season. With that amount of time, there would be no passing. Orlando's night would be in the hands of just one player. Van Gundy's choices:
When Orlando has one shot to win a game, they almost always give the ball to Hedo Turkoglu -- he's a tall shooter with a knack for getting fouled. He can always get a shot off, and has won several games doing so at the buzzer.

Veteran Rashard Lewis is also long, is shooting well, and has hit several big shots in the playoffs.

On this night, the man with space has often been J.J. Redick, a young player who made a reputation for himself in college as a clutch shooter.

Dwight Howard can elevate to catch lob passes like few in history, and has proven he's capable of skying to dunk a lob pass for a win.

Maybe the last guy you'd expect to see get the shot was the only rookie in the Finals, Courtney Lee. He started the game, but was benched for 38 minutes up to this point. He has just missed a layup, and has only made one bucket all night.
Kobe Bryant prides himself on his ability to interpret the strategy of opponents. He notices Turkoglu taking the ball out of bounds. He notes Lewis and Redick fighting toward the ball. When his own man, Lee, does too, Bryant matches him stride for stride. Somebody is going to catch the ball and fire a jumper.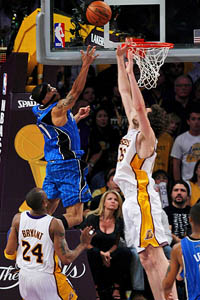 Surprise! Instead, Turkoglu lobs from nearly half-court, high into the air toward the hoop. Just then, Lewis steps in to screen Bryant out of the play.
Lee scrambles for the hoop, unimpeded.
Later, Lee said his main thought was that the ball seemed to take forever to make its way out of the sky and into his hands.
Later, Bryant said his main thought was: "s---."
If this shot -- basically, an uncontested, if hurried and off-balance layup -- goes in, the Magic have tied the series, gained home-court advantage, and stunned the pundits. They would have stolen a win in Los Angeles, and the NBA Finals would tilt in their favor.
"It was very close," Lee would say later. "The ball rolled off the rim. ... I just had to finish but I didn't."
"He got a good look at it," said Lewis. "I don't know if it was a bad pass. It seemed like he was a little under the basket when he caught the ball for the lay-up and it was a tough play for him."
Lee can't remember ever having won a game with an alley-oop before at any level of play. It's about as spectacular as basketball can get.
It just was not to be on this night -- and it's the kind of opportunity that comes to the NBA Finals only once in a great many years. It's exceptionally unlikely that Lee, or any other player, will ever get another chance to win a Finals game with an alley-oop.
Lee is nearly alone in even having attempted such a thing. And he missed.
But he's not taking it too hard. "All we can do now," he says, "is get ready to play on Tuesday."
(Photo by Andy Hayt/NBAE/Getty Images)