Phil Jackson does a fairly convincing job not focusing on winning ten rings.
But when he returned to the Lakers in 2004, his friend and colleague Tex Winter told Roland Lazenby, in "The Show," that Jackson had one goal: "That's what he wants. He wants a tenth title, which would make him the winningest coach in NBA history. That would be more titles than Red Auerbach won with the Boston Celtics. That would be his reason for coming back."
This has been discussed too much already, but the idea that Jackson is intent on beating Auerbach's record makes you wonder if he might be at all tempted to step aside once that goal has been achieved.
Auerbach of course, won "only" nine titles, coaching that great Celtics dynasty.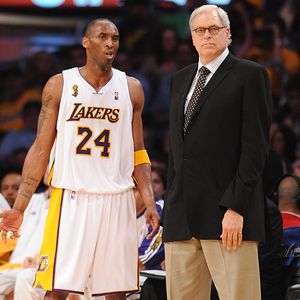 The oddity, though, is that the Bill Russell-led Celtic team of that era actually won eleven titles. Auerbach wasn't on the sidelines for the 1968 and 1969 titles, having handed the coaching duties to player/coach Bill Russell.
Perhaps some Auerbach supporters will make the case that Auerbach could have won eleven as a coach himself, if he had wanted to. It'll be one of those backward-looking sports debates that will linger in sports bars forever.
But thinking about Auerbach vs. Jackson, my thoughts strayed into a another sports debate, and this one is looking forward: As Auerbach handed the reins over to Bill Russell, why couldn't Phil Jackson hand the reins over to Kobe Bryant -- either before or after Bryant retires as a player?
I know, I know, it's total crazy talk, for a number of reasons:
In this day and age, coaches do so much more than Xs and Os, and need to lead multimillion dollar business operations.

Coaching is more than a full-time job.

Famous players have a spotty record as head coaches.

Kobe Bryant has a spotty record as one who inspires greatness from other players.

Kobe Bryant is probably still way too young, rich, and famous to be thought of anytime soon as a head coaching candidate.

The schedule is wrong. You'd have to guess Phil Jackson will retire from coaching years before a player of Bryant's caliber would make a late-career move like this.
On the other hand:
If we learned one thing from "Kobe Doin' Work," it's that the man is happy when immersed in X and O talk.

A lot of superstar players, I believe, fail as GMs or coaches because they are great at doing things, which is totally distinct from inspiring other people to do things. On top of that, sometimes essential elements of what made them great as players is subconscious, and therefore not simple for them to articulate, share or teach. Bryant, on the other hand, leaves just about nothing to the subconscious. It may even be a shortcoming of his -- that nearly everything seems calculated. But on the upside, conscious thoughts are thoughts you can share.

For anyone switching careers, an obsessive work ethic is one of the best predictors of success. Check.

Bryant is ridiculously competitive, driven and steeped in basketball. He's going to do something with his life after he plays. Won't it have to be something like this?

As much as he has been known through his early career as a lone wolf who alienated even his own teammates, Bryant has clearly made it his business to relate better with other players. Encouraged by some recent successes, including a likely title inthe coming days, conceivably he could keep improving at that.

More and more teams are empowering assistant coaches to have some autonomy coordinating the offense and/or the defense, with good results. That trend might allow for NBA head coaches who don't have tons of coaching experience.
I know this idea seems straight out of the fantasy/crazy grab bag. And let me be clear, I don't think anything like this is likely.
But I do think it's an interesting question to ponder. Kobe Bryant as head coach, sooner rather than later ... why not?
(Photo by Noah Graham/NBAE via Getty Images)