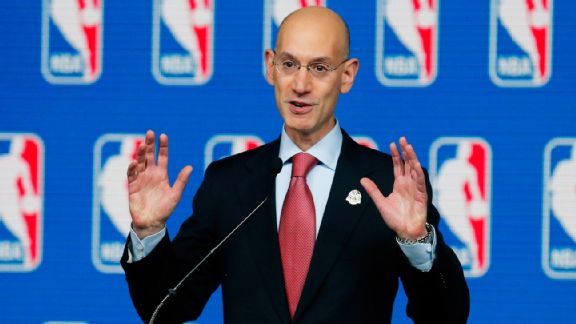 AP Photo/Bill Haber
New commissioner, new rules.David Stern is from the Napoleon Bonaparte/Danny DeVito school: small man, big impression. He may not be large, but he's gargantuan.
On the flight to New Orleans for the first Sternless All-Star Game of my career I had a fleeting thought: Was All-Star Weekend possible without Stern? Or, for that matter, was the NBA? Maybe Stern was everything. CEO-as-bedrock.
So it's no surprise the lion's share of the news that Adam Silver is the new NBA commissioner has been built around the idea that Stern stepped down after three decades. Stern's absence has been the real headline. To the extent Silver has been defined it has generally been versus Stern -- for instance, he's taller, younger, more of a consensus-builder, etc.
A couple of weeks into the Silver Age, however, what's emerging is that there's a lot more to the new commissioner than the mere fact that he's not the old commissioner.
And in fact, the early evidence is that he'll be making his mark profoundly and quickly.
At Stern's final board of governors' meeting in October, a major function of which was the transfer of power to Silver, NBA executives suddenly began saying, repeatedly, that the worst reason to do something is because that's the way it has always been done.
It was not something I had ever heard them say before, and while it sounds canned, in fact it's a line that comes with huge implications. It means, essentially, that everything is up for review. It invites questions, which is an awkward thing to invite unless you intend to have answers.
Evidently it wasn't just corporate-speak, either. As Silver's agenda comes to light, it fits a theme: innovation. Silver addressed an invite-only crowd of powerbrokers (Mark Cuban, Vivek Ranadive and a few hundred others) at the Tech Summit in New Orleans on All-Star Friday. The talk was off the record, but word that everyone came away with from the conference was "innovation."
"He laid it down," a grinning team executive said in the hallway after hearing Silver talk. "It's a brand-new day."
Saturday, in his first major news conference, Silver sent more signals of change. Sponsorships on jerseys? "It ultimately will happen." The draft lottery? "The system's not perfect right now."
In a league that has long been dominated by lawyers, that counts as crystal-clear communication.
Meanwhile, the keepers of the game's rules, league executives Rod Thorn and Kiki Vandeweghe, disclosed on TrueHoop TV that their aim is to have real-time, off-site video review as soon as next season. Later it emerged that NBA personnel have already been building and rehearsing in a studio in New Jersey, stocked with a vast array of screens and digital tools. That's happening.
A couple of weeks into the job, D-Leaguers are wearing "performance analytic devices" in games, something that is still banned in the NBA. Things that have long been ideas are now happening.
Asked about all kinds of radical things -- speeding up the game, enlarging the court, 4-pointers -- Vandeweghe and Thorn sounded surprisingly open-minded tones.
"Players are faster, they're bigger, they're stronger. Coaches are smarter. ... With that you evolve the rules, too," Vandeweghe said.
But that's not to say Silver, a noted consensus builder, isn't aware that change can be scary. "People keep encouraging me to do new things," says Silver, addressing a question about the NBA's controversial new T-shirt style jerseys. "And then when we try new things, they say we've lost our minds."
There's almost no chance the NBA will look in five years like it does now.